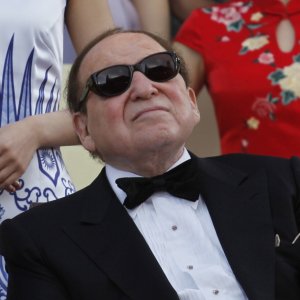 Those of you rooting for the demise of Las Vegas Sands CEO Sheldon Adelson (pictured) might have finally gotten your wish. On Friday, the Guardian published an articlesaying that Adelson will soon face graft accusations in a US court of law.

If you have no idea what graft is, we'll let a dictionary fill you in: "practices, especially bribery, used to secure illicit gains in politics or business; corruption."
According to the Guardian, the charges stem from allegedly nefarious actions at Adelson's all-important casinos in Macau and, if prosecutors are successful, could spell the end of his gaming licenses in the US.
The paper explained that the Republican mega-donor could face "difficult questions about his business practices following allegations by a former chief executive of his highly profitable casinos in the Chinese enclave of Macau that a well-known triad crime figure was used to bring in high-rolling gamblers and of influence-peddling with Chinese officials."
It added, "The case potentially has implications for Adelson's Las Vegas Sands casinos because evidence of ties to criminal organizations could cost them their gaming licenses."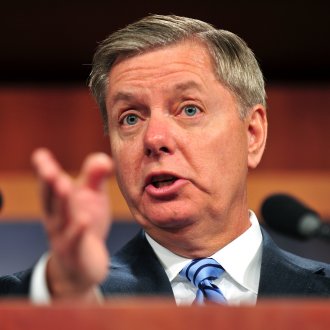 Adelson has pledged to spend "whatever it takes" to rid the US of internet gambling forever and has emerged as public enemy number one in our industry. He has employed a variety of current and former lawmakers to spread his message, including Senator Lindsey Graham (pictured) and Congressman Jason Chaffetz.
We should mention that despite being one of the leaders of Adelson's anti-online gaming crusade, Graham has never sent an e-mail.
The article explained that a former chief executive in Macau, Steve Jacobs, "alleges that he was fired in part for blocking hundreds of thousands of dollars in payments to a Macau legislator and lawyer because they may breach US anti-bribery laws. Jacobs also alleges Adelson opposed his attempts to break links to the triads." A judge recently ruled that the case could be heard in Nevada; to this point, it has taken place in Macau.
At the heart of the case are various relationships Sands had with Macau legislators, triad leaders, and couriers. You can read the entire article from the Guardian by clicking here.
Adelson's US properties include the Venetian and Palazzo in Las Vegas and Sands Bethlehem in Pennsylvania.
Want the latest poker headlines and interviews? Follow PocketFives on Twitterand Like PocketFives on Facebook.