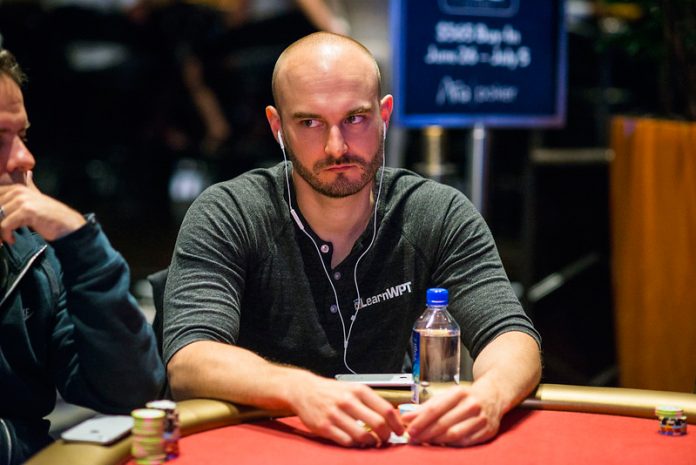 When the World Series of Poker Event #24 ($400 NLHE 8-Max) final table began in the early morning hours of July 25, all eyes were focused on a pair of notable names battling to take home the bracelet. Ryan Leng was seeking his second gold bracelet while Solve For Why Academy's lead coach and high-stakes pro Matt Berkey was hoping to break through and nab his first.
But unbeknownst to just about everyone following the event that night, there was another high-profile poker coach in their midst. Hidden-in-plain sight, 38-year-old Nick Binger, playing under his WSOP screen name 'samadhi', was ready to take the tournament down and claim the $133,412 first-place prize and his second career gold bracelet.
"It's nice to win another bracelet. It's been nice to actually spend some time playing MTTs. I've, for years now, mostly been focused on cash games," Binger said. "So I haven't really been focused on MTTs for a long time. Taking some time to play them made me remember how much I enjoy them, even before the bracelet win. And then, obviously, winning a bracelet puts the cherry on top."
It's been nine years since Binger won his first WSOP bracelet. After years of taking shots in WSOP tournaments, in 2011, Binger won the $5,000 Pot Limit Omaha Hi/Lo tournament for his career-high cash of $397,073. Just like this year, back in 2011, Binger had some tough competition to overcome as well. His final table was loaded with talent that included Nick Schulman, Bryce Yockey, Phil Laak, and runner-up David Bach. But nine years is a long time between bracelet wins.
"I would say the emotion back then was probably higher given that it is the first bracelet that I won. There's nothing like the first time in anything that you do," he said. "But that being said, this was still an absolute joy and it was completely amazing to win the bracelet.
"I still haven't gotten it in the mail. So maybe when I opened the box, it'll become a little bit more real and hit me when I actually pull the bracelet out of the box."
Perhaps another reason it's been a long time between bracelet wins for Binger has been how tournaments have taken a back seat to cash games for him. Rather than spend time grinding higher-profile tournaments, Binger has spent most of his poker playing time in "private cash games here and there."
But also, Binger has been heavily invested as a lead instructor for LearnWPT, the training site for the World Poker Tour. Binger has been with the WPT since 2008, just about the same amount of time that he's been living in Las Vegas.
"LearnWPT is where I spend most of my time," he said. "And for the past year or so, I was spending most of my time developing the WPT GTO trainer, which is a GTO training tool that allows you to play hands in real-time and get feedback. These are all completely solved. We actually have the largest library of solved hands in the world, over 2 billion spots have been solved already."
Binger's been working on finding a way to make game theory optimal poker more palatable for players of all skill levels. It's something he speaks about with excitement, not only as a consumer tool that he has invested a ton of time into but also because in working on the trainer, he was able to keep himself competitive in the few WSOP events he could find the time to play in.
"We have a lot of tournament situations on there and I've played several thousand solved hands, probably a much higher number than that actually," he said. "And so, I felt very comfortable with my play this summer online. I felt like I had a very significant edge on the field, even though I hadn't been that focused on tournaments. It's not because of innate talent, it's because…I felt very sharp because of the tool."
For Binger, it's also exciting for him as a teacher. For more than a decade Binger has taught online and live courses to players looking to improve. He estimates he's taught over 120 workshops over that span, including in-person seminars. Despite poker becoming "more rigorous over the years" he still enjoys the challenge of, not just the game, but teaching it to others.
"I've always enjoyed it. It was actually around right after college, I went to Europe and taught English for a couple of years and enjoyed teaching there. And then I got into poker and had that a little bit of a teaching background as I became a professional poker player. And so when the opportunity arose with the World Poker Tour to teach, it was a natural fit."
A passion for education must run in the Binger family. Bingers's brother, Michael, was also a professional poker player in the early 2000s and as siblings, the "Binger Brothers" were often featured players whenever the ESPN cameras were present at a WSOP Main Event.
Michael, who took third place in the 2006 WSOP Main Event for over $4 million, unlike his brother, no longer plays poker professionally. But like Nick, finds himself dedicated to teaching others.
"He'll play once or twice a year," Binger said about his brother. "He would usually come out for the WSOP main events and maybe one or two tournaments before or after. So, that would be the limit of his poker playing. He's dedicated full time to developing AI algorithms and machine learning… Essentially, what the area that he's working on is with teaching and educational publishing."
For Binger, his recent tournament success probably isn't going to see him loading up multiple online tournaments every day, but he is excited to increase his MTT grind. At the same time, he feels like he has plenty more work to do in order to help others see the kind of success he's had.
"I love teaching. It is my passion. It's something that… There's nothing like the feeling of knowing that you really helped somebody and you can see that 'a-ha' moment that they have. And then from that point forward, they're playing better poker. That's pretty cool."