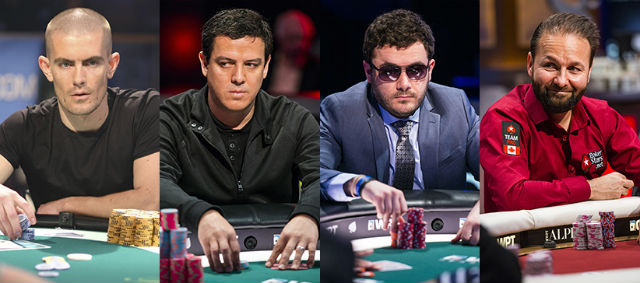 Even though they've had little trouble this year, number one seeds don't always breeze through the NCAA tournament. Upsets happen. It seems that the World Poker Tour Champions Challenge is no different.
Carlos Mortensen, top seed in the Hearts Region, was beaten by poker hall of famer and eight seed Erik Seidel in the Round of 32. The other three top seeds, Gus Hansen, Anthony Zinno and Daniel Negreanu, all advanced to the Sweet 16.
The Champions Challenge is a bracket-style tournament pitting 64 former WPT champions against each other with each match-up decided by a fan vote on WPT.com. The field of 64, and the seeding, were determined by taking into account the WPT success of each player.
In the Sweet 16, Hansen is matched up against Alan Goehring, while Zinno takes on Mohsin Charania and Negreanu has Jonathan Little as his opponent.
There was only two other upsets in the second round, but poker fans might not call one of them that. Doyle Brunson, seeded 11th in the Clubs region, beat Darren Elias, a three seed, to advance to the third round. While Brunson's popularity is unquestionable, his WPT resume isn't quite as polished as Elias'.
Brunson has one WPT title, three WPT final tables, eight WPT cashes and $2,081,824 in earnings, but Elias has two WPT wins, five final tables and 19 cashes and he only trails Brunson's lifetime WPT earnings by $189,000. Still, Brunson earned enough fan votes to move on.
The other upset came in the Spades region as 11 seed Phil Laak beat out 3 seed Freddy Deeb. Laak's victory sets up a third round match-up that will probably end up as the most talked about of the round. Laak now faces his best friend, Antonio Esfandiari, in the Sweet 16. The pair have been good friends since long before their WPT success.
Those two aren't the only good friends facing off in the next round though. After upsetting Elias, Brunson now faces Hoyt Corkins for a chance at moving on to the Elite Eight. Like Elias, Corkins brings a better-than-Doyle WPT resume to the table, but his two WPT titles, six final tables, 19 cashes and $3.5 million in earnings might not be enough to overcome Brunson's popularity.
This round of voting is open until Friday at 5 pm ET.
The WPT Champions Challenge Sweet 16
Clubs Region
Daniel Negreanu vs. Jonathan Little
Hoyt Corkins vs. Doyle Brunson
Diamonds Region
Anthony Zinno vs. Mohsin Charania
JC Tran vs. Barry Greenstein
Hearts Region
Erik Seidel vs. Marvin Rettenmaier
Phil Ivey vs. Michael Mizrachi
Spades Region
Gus Hansen vs. Alan Goehring
Antonio Esfandiari vs. Phil Laak