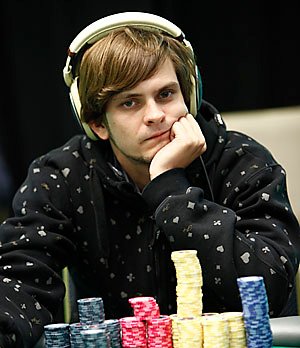 It has been a huge month of March for Austria's 23NoraB(pictured), who has won two PocketFives Triple Crowns so far well over 1,500 PLB Points combined. He has won four Triple Crowns in total, one-fifth of the haul for his home nation. We caught up with 23NoraB to talk about his recent run and his new delicatessen in Panama City, Panama.

—
Follow professional sports tipsters, make your own betting tips and compete for real cash prizes. Tipdayis the ultimate sports tipping resource. Check it out.

—
PocketFives: You have been on a roll lately, with two huge Triple Crowns. How are you feeling about it?
23NoraB: It felt very good finally winning some nice-sized tournaments again since it had been a while. The Triple Crowns were nice on top.
PocketFives: One of the tournaments you won along the way was the Full Tilt Poker $250,000 Guaranteed. There were several PocketFivers at the final table and it looked tough. Tell us how it felt from your perspective.
23NoraB: The final table didn't feel too tough to me, but that might have been because I didn't really play any important hands against the players I considered very good and I was pretty tight until we got to three or four players. I got kind of lucky that the regs I felt were the better ones busted early. From three or four players on, it was a tough grind, but I actually only recall one situation three-handed where I was all-in and covered.
PocketFives: Do you have any plans for the money?
23NoraB: Losing it again, ha! No, I don't have any plans for the money right now. Like I said, the past year didn't go too well for me poker-wise, so I'm definitely not making plans. Also, I just started a business with two friends in Panama, so having some money in the bank definitely doesn't hurt.
PocketFives: What's the business in Panama? When should we show up?
23NoraB: We haven't opened our doors yet, but it's going more or less as planned getting set up. It's a delicatessen called Villa Audebert that includes a bakery/patisserie, homemade meat products, a cafe, and a catering service. It's located in Panama City, Panama.
PocketFives: Are you headed to the World Series of Poker in Las Vegas this year?
23NoraB: I'm not really sure. If I go, I'll probably only play in the Main Event. I'm definitely not planning on four to six weeks in Vegas this year. I've been to Vegas three times, but only once, two years ago, for the WSOP. I played a bunch of events that year, but not too many, and my deepest run was in the Main Event. I had zero cashes if I recall correctly.
PocketFives: Why don't you want to go back for four to six weeks?
23NoraB: For several reasons. First of all, it's my ten-year school reunion. Also, it's pretty nice to grind online during the WSOP. I'm not playing too many big live events each year anyway and there are quite a few events in Europe too. Six weeks in Vegas would be too exhausting in my opinion. I think four weeks would be more than enough for me. It's not like there's that much to do in Vegas besides poker and drinking.
Visit our Triple Crown Wall of Champions to learn how to get your own award.
Want the latest poker headlines and interviews? Follow PocketFives on Twitterand Like PocketFives on Facebook. You can also subscribe to our RSS feed.