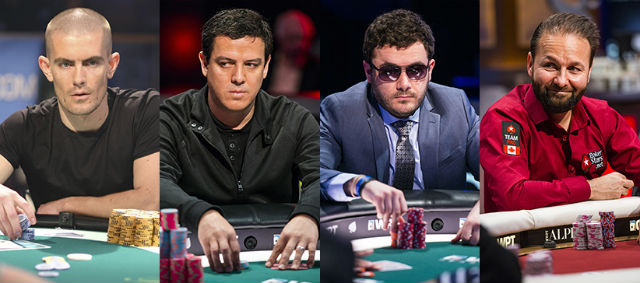 [CAPTION=100%]All four #1 seeds advanced to Round 2 in the WPT Champions Challenge.[/CAPTION]
Just like March Madness, the first round of the World Poker Tour Champions Challenge was all about the upset. Eight of the first 32 first round match-ups ended with the lower seed advancing to the second round.
The Champions Challenge is a bracket-style tournament pitting some of the greatest performers in WPT history against each other in a contest driven by fan voting. It's structured identically to the NCAA Men's Basketball tournament with the winner announced on April 11.
Four of the upsets came from the Spades region, with the biggest highlight being #10 seed Tony Dunst beating out #7 seed Howard Lederer. Season 9 WPT Player of the Year Andy Frankenberger, the #12 seed, beat out #5 Tommy Vedes, #11 Phil Laak eliminated #6 Matt Giannetti and #9 David Williams beat out #8 Nenad Medic.
The biggest upset came in the Hearts region as #15 seed Dan Harrington beat out #2 seed Erick Lindgren. The only other upset in that region had #11 Nick Schulman come out ahead of #6 Aaron Mermelstein. The other two regions only had one upset each. In the Diamonds region, #11 Vivek Rajkumar bested #6 Randal Flowers and in the Clubs region #11 seed Doyle Brunson ousted #6 Kevin Eyster.
And just like March Madness, number one seeds had no trouble in the first round. Carlos Mortensen, Gus Hansen, Anthony Zinno and Daniel Negreanu all moved on to the second round. Looking through the 16 second round match-ups, there are a few that stand out as worth watching.
Clubs Region
#1 Daniel Negreanu vs. #8 Gavin Smith
It's an all-Canadian battle as Season 3 WPT Player of the Year Daniel Negreanu goes up against Season 4 WPT POY Gavin Smith. Negreanu has two WPT titles, both coming in Season 3 when he won the Borgata Poker Open and Five Diamond Poker Classic. Smith won the Mirage Poker Showdown in Season 4 and followed that up with a third place finish at the North American Poker Championship and a fourth place finish at the World Poker Open. Negreanu has a huge edge in lifetime WPT earnings, having banked $6.4 million to Smith's $2.6 million.
Diamonds Region
#2 JC Tran vs. #7 Scotty Nguyen
There may not be a closer match-up in the second round than JC Tran against Scotty Nguyen. Tran has two WPT titles to Nguyen's one and has $1.3 million more in earnings, but Nguyen has eight WPT final tables to Tran's seven and 18 cashes to 16. The bulk of Nguyen's success came early in his career. Six of his first eight WPT cashes were final tables including his win at the World Poker Open in Season 4. Tran's first win came in Season 5 at the World Poker Challenge in Reno. He returned to the winner's circle in Season 12 when he won his hometown Rolling Thunder event at Thunder Valley.
Hearts Region
#1 Carlos Mortensen vs. #8 Erik Seidel
Carlos Mortensen is a #1 seed thanks to his three WPT titles, but he may be in for a rough ride in the second round as he goes up against Erik Seidel. Mortensen's three wins are spread out over three different seasons. He won the North American Poker Championship in Season 3, the WPT World Championship in Season 5 and the Hollywood Poker Open in Season 8. He's cashed 21 times for $6.7 million in earnings. Seidel won the Foxwoods Poker Classic in Season 6 and has cashed 22 times with seven final tables and $2.3 million in earnings.
Spades Region
#2 Antonio Esfandiari vs. #10 Tony Dunst
Tony Dunst took out Howard Lederer in the first round, but beating one the poker world's biggest villains is an easier task than taking on one of its most popular players. That's the challenge in front of Dunst, though, as he takes on #2 seed Antonio Esfandiari. Dunst has one WPT title to his credit, the Season 12 WPT Caribbean event, but has four final tables. Esfandiari has two WPT titles, the LA Poker Classic in Season 2 and the Five Diamond World Poker Classic in Season 9. He has nearly $3 million in WPT earnings and eight final table appearances.
Second round voting is open until Monday, March 21 at 3 pm PT. Vote here.