In August, Daniel Negreanu took to Twitter to offer his commentary on the play during the 2014 World Series of Poker and, in particular, the "online" players he faced. Negreanu was less than complimentary of the attacking style employed by many online players and fell back on his success in live cash games to demonstrate his knowledge. This led to some in the Twitterverse deriding him, stating he couldn't even beat a $5/$10 cash game online.

Not one to back down from a challenge, Negreanu issued a challenge. In response to a person who questioned whether he could beat the $25/$50 six-handed PokerStarscash games, Negreanu responded, "It would take two weeks of work and I'd be a winner." He added, "I couldn't be any more serious. Two weeks, five hours playing, four hours studying numbers daily… (I) would bet a million (that I would be a winner)."
Naturally, this boisterous proposition by Negreanu raised the ire of some of the regular online cash game pros. One of those was 2014 WSOP bracelet winner Doug WCGRiderPolk (pictured above), who responded to Negreanu's claims in an interview with CardPlayer. Polk said once Negreanu was called out, "Kid Poker" introduced several caveats to what he stated on Twitter.
"This whole thing started with Negreanu posting that with two weeks of study, he could beat $25-$50," Polk answered in the interview with CardPlayer's Julio Rodriguez. "So, I took that to mean that if given two weeks of study, he could beat $25-$50. Apparently, what Negreanu meant was that he'd be given two weeks of study and then get a whole year to beat $25-$50, along with another year of play if needed with some consequences or something."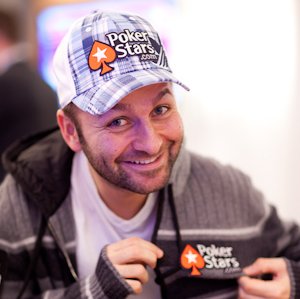 "The question is, am I willing to bet against Negreanu beating $25-$50 over the course of two years while cherry-picking his spots and getting coaching?" Polk asked. "No, of course not. But that's not what he originally said. The terms that I think are reasonable for the bet, he would never agree to."
Polk moved on to say that he and others in the online cash game world were "insulted" by Negreanu's insinuations that he could beat their game so easily. "I think Negreanu is a fantastic live tournament player. He has great results and is a great ambassador for the game of poker, but he is not a good high-stakes online cash game player. He's just not. There are guys who spent a lot of time and energy making their way to that level and winning and he's basically dismissing their effort by saying he could just jump in and beat them. Most of the older, more recognizable live pros just don't have the skill set to win online."
Polk seems to be one of those who has made the online-to-live jump quite successfully. Although he dismisses reports of his online performance, his last eight months of live action have been impressive. In addition to winning a WSOP bracelet, Polk finished fourth in the Aussie Millions $100,000 Challenge in February for a big six-figure score and, in July, took down the Bellagio $100,000 Super High Roller Event for $1.6 million. In his live tournament career of only three years, Polk has racked up over $3.6 million in earnings, according to the Hendon Mob.
Although it makes for excellent fodder for poker gossip, the battle between Negreanu and Polk would be fascinating to see come to fruition. Do you think that "Kid Poker"' may have bitten off more than he could chew? Or could he actually, with two weeks of training, become one of those top online cash game pros? Leave a comment here and let us know!
Want the latest poker headlines and interviews? Follow PocketFives on Twitterand Like PocketFives on Facebook. You can also subscribe to our RSS feed.