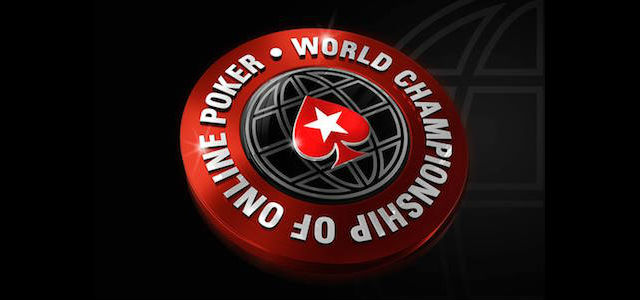 Anybody who closely follows the PocketFives Rankings knows that every time the PokerStars World Championship of Online Poker rolls around, the Rankings see some seismic shifts. With Day 2 of WCOOP now in the books, it looks like there is already going to be some movement near the top.

Russia's 'veeea', the #4-ranked player in the world, might find himself moving up after taking down Event #4 ($1,050 Progressive KO) for a $97,389.47 score plus over $100,000 in bounties. The final table included
the second 2017 WCOOP final table for Adrian 'Amadi_017' Mateos, the #1-ranked player from Boznia and Herzegovina, Alen 'lilachaa' Bilic and the #1 player from Cyprus, Andreas 'daskalos20' Christoforou. This is the second career WCOOP title for 'veeea'. He won a $320 buy-in WCOOP Stud title in 2013.
That was one of three WCOOP (High) events that wrapped up on Tuesday.
Pascal 'Päffchen' Hartmann beat out 1,164 other players to win Event #5 ($215 Six Max Pot Limit Omaha) for $37,015.66 and his first COOP title. Germany's 'Schinken777' finished runner-up.
The #2-ranked Croatian, 'josip1313', topped the 1,180-player field in Event #7 ($530 Eight Max NLHE) to win $93,988.27. The final table included PocketFivers 'Powergolf', the #2-ranked Finnish player, Tomi 'elmerixx' Brouk and Russia's 's3c3_1978'.
Event #5 (High) – $215 Six Max Pot Limit Omaha
Entries: 1,165
Prize pool: $233,000
Pascal 'Päffchen' Hartmann – $37,014.66
Schinken777 – $25,966.63
*FlipMyJinx* – $18,216.40
Pucuttnyul – $12,779.39
Mr_Giiba – $8,965.16
torscotr06 – $6,289.34
Slaventii003 – $4,956.91
Event #6 (High) – $1,050 Progressive KO NLHE
Entries: 1,221
Prize pool: $610,500 + $610,500 in bounties
veeea – $97,389.47 + $100,514.32 in bounties
PSMozak – $70,710.30 + $13,514.41 in bounties
Jâmes – $51,340.05 + $4,687.50 in bounties
Adrian 'Amadi_017' Mateos – $37,275.97 + $16,164.07 in bounties
sleepnot – $27,064.68 + $3,937.50 in bounties
Alen 'lilachaa' Bilic – $19,650.59 + $4,093.75 in bounties
Jussi 'calvin7v' Nevanlinna – $14,267.56 + $10,718.75 in bounties
elmerixx – $10,359.14 + $3,562.50 in bounties
Andreas 'daskalos20' Christoforou $7,521.36 + $2,437.50 in bounties
Event #7 (High) – $530 Eight Max No Limit Hold'em
Entries: 1,180
Prize pool: $590,000
josip1313 – $93,988.27
Powergolf – $68,038.50
Tomi 'elmerixx' Brouk – $49,253.55
s3c3_1978 – $35,654.99
GooDrone – $25,810.96
Poeira4 – $18,684.76
Maxi 'Pachila25' Gallardo – $13,526.04
444446 – $9,791.58
Mahon 32 – $7,746.34