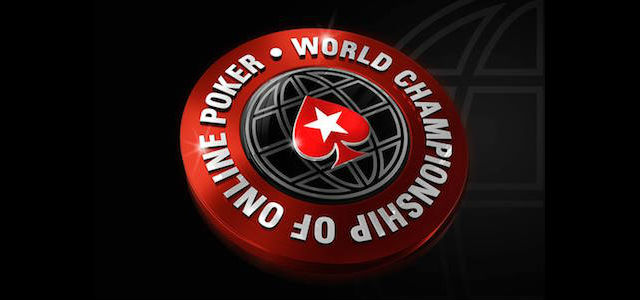 The 2017 World Championship of Online Poker continued to draw massive fields on Wednesday as another three players earned WCOOP titles, along with massive paydays.
The biggest winner of the day was Uruguay's 'IlDepredator' who cashed in for $79,872.83 en route to his win in Event #37-High ($215 No Limit Hold'em 6-Max, Zoom). The final table included a number of PocketFivers including runner-up, former #2-ranked online player, Bjorn 'kleath' Kleathersson as well as Brazil's Gustavo 'PIUlimeira' Ferreira and Romans 'RovoDice' Voitovs from Latvia. Newly minted PokerStars Online Pro, and host of the Flow Show on Twitch,Jeff Gross also made the final table, bowing out in 6th for just over $13,000.
We are on FINAL TABLE, $79,872.83 1st place WCOOP $215 6-max Zoom @pokerstars and LIVE https://t.co/Qdn55xjD7A FOLLOW and RETWEET to win $50 pic.twitter.com/G5FPsWw7lD

— Jeff Gross (@JeffGrossPoker) September 14, 2017
Event #33 High ($530 Four Max Progressive KO Pot Limit Omaha) also drew big numbers as 606 runners (plus their 482 re-entries) pushed the prize pool to well over $500,000, half of which was collected in bounties. Ukraine's 'Plspaythxbye' took the lions share of the prize pool claiming $47,093.99 in a head-up deal with runner up 'onlymtt748' as well as another $30,752.22 in bounties. His healthy total of $77,846.21 was second best on a big day.
Also of note, Team PokerStars Brazil's Andre Akkarimade the final table of Event #36 High ($1,050 Limit Badugi) finishing in fourth place as Norway's 'paaskebaesen' took the title and the $20,437.50 that went with it.
Event #33 (High): $530 Pot Limit Omaha Four-Max (Progressive KO)
Entries: 1088
Prize pool: $544,000
'plspaythxbye' – $47,093.99* + $30,752.22 in bounties
'onlymtt748' – $35,738.17* + $15,447.62
'cmontopdeck' – $18,161.44 + $8,257.54
'smir9david' – $11,081.28 + $1,875.00
Event #36 (High): $1,050 Fixed Limit Badugi
Entries: 75
Prize pool: $75,000
'paaskebaesen' – $20,437.50
'sprocketsAA'- $13,875.00
'PSMozak'– $10,500.00
Andre 'aakari' Akkari– $7,125.00
'silna_rakia' – $5,250.00
'secky0222' – $3,187.50
Bernardo 'bedias' Dias – $3,187.50
'Fresh_oO_D' – $2,437.50
Event #37 (High): $215 6-Max No Limit Hold'em (Zoom)
Entries: 2731
Prize pool: $546,200
'IlDepredator' – $79,872.83
Bjorn 'kleath' Kleathersson – $55,651.66
['Korpieworm' – $38,776.54
[Gustavo 'PIUlimeira' Ferreira – $27,018.38
[Romans 'RovoDice' Voitovs – $18,825.65
Jeff 'JeffGross' Gross – $13,117.21
* denotes final table deal