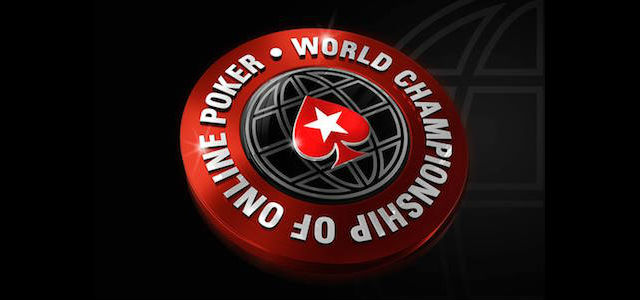 Wednesday's action in the PokerStars World Championship of Online Poker included four more players walking away with High titles and a pair of highly-respected online grinders both coming close to a pair of wins.
The big winner was Austria's 'flauschi16', who beat out a field of 2,679 players to win the half price Super Tuesday for $197,977.83. 'GadMO' finished runner-up for $139,990.26.

Dutch pro 'FluAnta' won Event #8 High ($215 No Limit Hold'em w/rebuys) for $94,644.43 while Lebanon's 'abeainy' took home $69,168.53. Mike 'goleafsgoeh' Leah finished seventh for $14,420.96, one of two final tables for the Canadian on Wednesday.
Leah's other final table appearance came in Event #10 High ($1,050 Stud Hi-Lo) where he finished sixth. Four months after winning a PokerStars Spring Championship of Online Poker title in Razz, Jerry 'hummylun' Wong beat out the 137-player field to win $32,625 and his second WCOOP title.
2nd WCOOP bracelet, 3rd COOP title. ???? pic.twitter.com/jWmHbQN75O

— Jerry Wong (@HumLun) September 6, 2017

The final table also included Leah, Bryn Kenney and Adam Owen, while 'gunnersfun' finished second for $23,250.
That final table was one of two that Owen showed up at on Wednesday. He also managed a fourth place finish in event #11 ($1,050 No Limit Five Card Draw). Owen took fourth after the final four players agreed to a deal. 'thehushpuppy' took home the title and $17,969.90 after beating Mike 'SirWatts' Watson heads-up.
Event #8 (High): $215 No Limit Hold'em w/rebuys
Entries: 1,002 (1,233 re-buys, 620 add-ons)
Prize pool: $579,565
FluAnta – $94,644.43
abeainy – $69,168.53
Unkn0wn123 – $50,550.52
Daniel 'ShippityShip' Nielson – $36,943.90
hawiwi – $26,999.78
robdag – $19,732.27
Mike 'goleafsgoeh' Leah – $14,420.96
Thiago 'tnapoleao' Napoleão – $10,539.27
CROSA COLL – $7,702.41
Event #9 (High): $530 NLHE (Half-Price Super Tuesday)
Entries: 2,679 (2,108 entries, 571 re-entries)
Prize pool: $1,352,895
flauschi16 – $197,977.83
GadMO – $139,990.26
slarki1 – $98,988.08
AJFC6819 – $69,995.13
Danya Kop – $49,494.04
Pendos90 – $34,997.63
cringeguy – $24,747.15
(p/r)okSerj – $17,498.88
polleblues – $12,373.57
Event #10 (High): $1,050 Stud Hi-Lo
Entries: 137 (118 entries, 19 re-entries)
Prize pool: $150,000
Jerry 'hummylun' Wong – $32,625
gunnersfun – $23,250
Adam 'Adamyid' Owen – $18,000
aDrENalin710 – $12,750
paaskebaesen – $8,250
Mike 'goleafsgoeh' Leah – $6,750
Bryn 'BrynKenney' Kenney – $5,250
Gregory_2804 – $4,125
Event #11 (High): $1,050 No Limit Five Card Draw
Entries: 81
Prize pool: $81,000
thehushpuppy – $17,969.90*
Mike 'SirWatts' Watson – $15,116.65*
DSmunichlife – $11,394.44*
Adam 'Adamyid' Owen – $11,409.01*
Gagarin007 – $5,670.00
gygenot09 – $4,252.50
*four-way deal