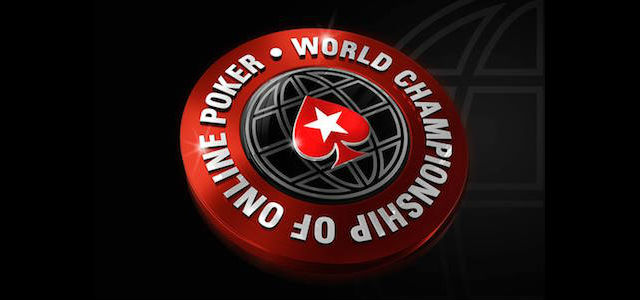 Tuesday's action in the PokerStars World Championship of Online Poker saw three more High events wrap up with Germany's 'DSmunichlife' taking home the biggest score of the day.
Beating out a 3,686-player field in Event #30 High ($215 No Limit Hold'em (Progressive KO)), 'DSmunichlife' earned $52,722.77 in prize money plus an additional $37,397.61 in bounties. Brazil's 'Ruis Maker' finished runner-up for $37,279.50 but just $2,600.00 in bounties.

The biggest buy-in event to wrap up on Tuesday was Event #29 High ($2,100 Six Max No Limit Omaha Hi-Lo). 'Kekkhou' topped the 119-player field to earn his first WCOOP title and the $53,504.90 first place prize money. The #13-ranked player in India, 'gunner9696', was the runner-up, earning $41,035.53.
Lastly, Russia's 'nsmirnov' won $62,040.83 and his first WCOOP title in Event #32 High ($530 Six Max No Limit Hold'em). Runner-up 'Vchama' pocketed $43,682.87 for finishing in second place.
Event #29 (High): $2,100 Six Max No Limit Omaha Hi-Lo
Entries: 119
Prize pool: $238,000
Kekkhou – $53,504.90
gunner9696 – $41,035.53
Beeethoven87 – $31,472.19
Unkn0wn123 – $24,137.57
chickensssss – $18,512.30
Chris 'PokinStaR'Alcindor – $14,198.00
Event #30 (High): $215 No Limit Hold'em (Progressive KO)
Entries: 3,686
Prize pool: $737,200 ($368,600 + $368,600 bounties)
DSmunichlife – $52,722.77 + $37,397.61 in bounties
Ruis Maker – $37,279.50 + $2,600.00
thegr8str8 – $26,360.61 + $3,769.33
Regis 'capotinha' Kogler – $18,639.77 + $9,287.03
wisopekeño! – $13,180.28 + $485.94
Jeremy 'EndlessJ' Menard – $9,319.86 + $3,316.01
paniaguamos – $6,590.12 + $2,036.73
daltonhb – $4,659.91 + $1,209.38
remenyrabja – $3,295.02 + $900.00
Event #32 (High): $530 Six Max No Limit Hold'em
Entries: 731
Prize pool: $365,500
nsmirnov – $62,040.83
Vchama – $43,682.87
Ricardo 'chicobolinho' Pessoa – $30,757.19
Jon 'LUFCBas' Spinks – $21,656.20
Kelvin 'Kelvin_FP:AR' Kerber – $15,248.18
oshiMoshi84 – $10,736.30
teruliro – $8,549.30