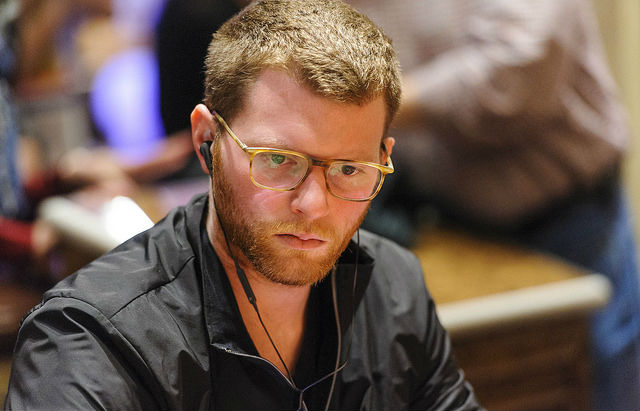 The final high roller event on the PokerStars World Championship of Online Poker schedule wrapped up on Friday night with Nick Petrangelo beating out a talented final table to win over $600,000 after chopping things up with Bryn Kenney and 'bartek901'.

Along with Kenney, Petrangelo outlasted the likes of Viktor Blom, former #1-ranked Patrick Leonard, Charlie Carrell and Henrik Hecklen to win Event #66 High ($25,000 High Roller) for his first WCOOP title. The final three players agreed to a deal that saw Petrangelo end up with $624,676.53 for the win, Kenney got $559,694.73 as runner-up and 'bartek901' getting more than everybody, $636,113.64.
Outside of the High Roller, the biggest score went to Russian 'prebz' after taking down Event #65 High ($2,100 Thursday Thrill Special Edition) for $160,824.57 plus another $93,552.70 in bounties. Sweden's '42ayay' finished as runner-up for $117,684.22 and $50,802.73 in bounties.
Take Your Poker Game to the Next Level with the Upswing Lab! Join world-class poker players as they show you the strategies that helped them reach the top of the poker food chain.
JOIN NOW!
Jens 'Fresh_oO_D' Lakemeier became the first player to win two WCOOP titles this year when he beat out 104 other players in Event #67 High ($1,050 Seven Card Stud). He earned $25,725 for the win. Lakemeier's first 2017 WCOOP title came in Event #23 High ($1,050 Six Max No Limit Hold'em) on September 11.
Canada's Mike 'WalmartCNXN' Farrow won Event #68 High ($215 Eight Max No Limit Hold'em) for $45,031.47. All told there were eight WCOOP titles won on Friday inlcuding 'ghost crab' (Event #64 High: $1,050 Six Max Pot Limit Omaha), 'Mordnilap' (Event #69 High: $1,050 Six Max Limit Hold'em), '84BUKTOP84′ (Event #70 High: $530 Six Max No Limit Hold'em), and 'gugom' (Event #72 High: $215 ZOOM Heads-Up Pot Limit Omaha (Progressive KO)).
Event #64 (High): $1,050 Six Max Pot Limit Omaha
Entries: 698
Prize pool: $698,000
ghost crab – $107,869.46*
Turtza – $97,414.61*
DonkPredator – $60,517.08
Lex 'L. Veldhuis' Veldhuis – $42,967.34
komarolo22 – $30,506.92
WRUUUUM – $21,660.05
SP3WMONKEY – $17,399.18
* Heads-up deal
Event #65 (High): $2,100 Thursday Thrill Special Edition
Entries: 976
Prize pool: $1,952,000 ($976,000 + $976,000 in bounties)
prebz – $160,824.57 + $93,552.70 in bounties
42ayay – $117,684.22 + $50,802.73 in bounties
samooth – $86,116.48 + $20,027.35 in bounties
NCSU2012 – $63,016.51 + $27,453.13 in bounties
Simon 'IgorKarkarof' Pedersen – $46,112.87 + $2,000 in bounties
n3xD – $33,743.54 + $9,093.75 in bounties
salfshb – $24,692.21 + $37,687.51 in bounties
KissMyAcePlz – $18,068.78 + $13,515.63 in bounties
Poeira4 – $13,221.96 + $7,968.75 in bounties
Event #66 (High): $25,000 High Roller
Entries: 149 (120 entries + 29 re-entries)
Prize pool: $3,654,225
Nick 'caecilius' Petrangelo – $624,676.53*
Bryn 'BrynKenney' Kenney – $559,694.73*
bartek901 – $636,113.64*
Viktor 'Isildur1' Blom – $355,846.60
Patrick 'pads1161' Leonard – $275,473.38
Henrik 'hhecklen' Hecklen – $213,253.62
Linus 'LLinusLlove' Loeliger – $165,087.28
Charlie 'Epiphany77' Carrel – $127,799.94
* Three-way deal
Event #67 (High): $1,050 Seven Card Stud
Entries: 105 (71 entries + 34 re-entries)
Prize pool: $105,000
Jens 'Fresh_oO_D' Lakemeier – $25,725
hotmark777 – $17,850
Iteopepe88 – $13,650
Christian 'CMoosepower' Elgstrøm – $9,450
Richard 'CHUFTY' Ashby – $6,825
krakukra – $5,250
secky0222 – $4,200
Vladimir 'vovtroy' Troyanovskiy – $3,150
Event #68 (High): $215 Eight Max No Limit Hold'em
Entries: 1,476
Prize pool: $295,200
Mike 'WalmartCNXN' Farrow – $45,031.47
Ted 'pseftis' Doukas – $32,256.56
dartazzzz – $23,106.16
Daniel 'deoxyribo' Strelitz – $16,551.50
allinrusty – $11,856.23
Aziz.Mancha – $8,492.93
IAmSoSo – $6,083.68
chickensssss – $4,357.89
David 'DonkCommited' Miscikowski – $3,464.93
Event #69 (High): $1,050 Six Max Limit Hold'em
Entries: 179
Prize pool: 179,000
Mordnilap – $35,702.52
St1ckman – $26,987.34
merla888 – $20,399.68
coman567 – $15,420.06
Perumov – $11,655.99
Connor 'blanconegro' Drinan – $8,810.73
Naza114 – $7,027.59
Event #70 (High): $530 Six Max No Limit Hold'em
Entries: 1,101
Prize pool: $550,500
84BUKTOP84 – $89,798.88
LEN1234980 – $62,568.89
langace66 – $43,596.24
Jon 'PearlJammer' Turner – $30,376.64
thegr8str8 – $21,165.56
Charlie 'JIZOINT' Combes – $14,747.56
thehushpuppy – $11,156.04
Event #72 (High): $215 ZOOM Heads-Up Pot Limit Omaha (Progressive KO)
Entries: 976
Prize pool: $1,952,000
gugom – $25,505.62
nogrenadez – $12,758.78
maxb1818 – $7,375.01
ShipitFTW911 – $8,052.72