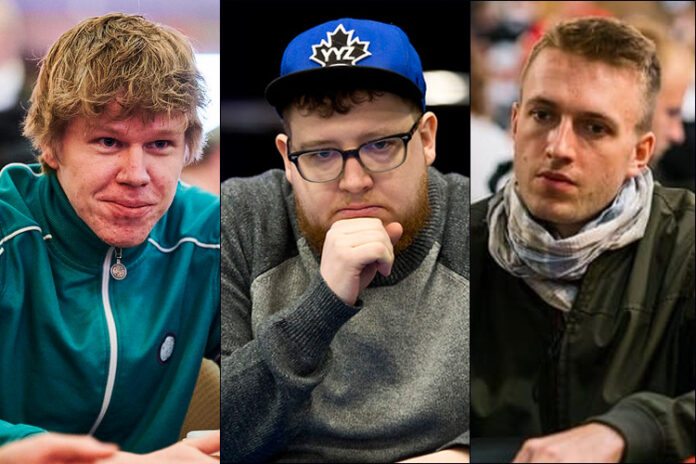 The latest raft of PokerStars 2021 World Championship of Online Poker events featured a host of high-profile online pros take home titles as Finland's Samuel "€urop€an' Vousden joined Team PokerStars Pros Ben 'Spraggy' Spragg and Parker 'tonkaaaa' Talbot in claiming victories.
The action was terrific across the board in Low, Medium, and High events the past few days on the PokerStars felt, not least in Event 73-H ($1,050 NLHE 6-Max PKO), where 629 entries created a massive $629,000 prize pool, the biggest prize from which was won by recent WSOP gold bracelet winner '€urop€an' – a.k.a. Finnish poker legend Samuel Vousden.
Vousden has over $9.7 million in career online winnings and has ranked as high as #3 in the world as recently as 2018. A regular in events such as GGPoker's weekly $10,000 buy-in Super MILLION$, where Vousden finished as runner-up last week, there is sure to be more massive results to come from one of the most consistent performers in online poker.
Elsewhere in the event, Russian player 'CrazyLissy' finished in third place, while other behemoths of the high roller circuit, Niklas Astedt (14th for a total prize of $4,688) and Diego Ventura, (21st for $3,997) also made the money.
In Event #75-H ($5,200 NLHE 8-Max Midweek Freeze), Parker 'tonkaaaa' Talbot took the WCOOP title after outlasting 90 other players to grab over 20% of the $455,000 prize pool for a top prize worth $108,729. Getting the better of Ramiro 'ramastar88' Petrone heads-up, Talbot also made it past players such as 'CrazyLissy' and former #1-ranked Chris Oliver, both of whom narrowly missed the money, as well as Patrick Leonard ($23,162) and Fabiano Kovalski ($17,900), both of made profit. Talbot's first victory as a Team PokerStars Pro comes a year after his first WCOOP win.
Finally, Ben Spragg celebrated his recent marriage to fellow Twitch legend Marle…Spragg with yet another title in Event #83-H, the $1,050 7-Max Turbo PKO Freezeout. With a healthy prize pool of $343,000. 'Spraggy' broadcast the victory on his Twitch channel as he edged out Hungary's top-ranked pro 'Wildace_hun' heads-up, with players such as the aforementioned Patrick Leonard along with Brazilians Kovalski and Pedro Padilha all making it through the money bubble to claim bounties and a place prize.
Here's how Spraggy announced the news to his thousands of Twitter followers.
THE TWO TIME WCOOP CHAMPION! BROUGHT ONE HOME IN THE $1050 TURBO PKO!

$67,969 FOR 1ST!

ABSOLUTE LOSS FOR WORDS RIGHT NOW.

THANK YOU EVERYONE WHO TUNES IN!. MAGIC! pic.twitter.com/PL8vlI5RK1

— Spraggy (@spraggy) September 10, 2021
In low and medium events, there were plenty of big names buried among the first-time winners, as well as one player, 'Fisherman FV' taking home two titles. Winning WCOOPs were the following players: 'Lystig' (Event#67-L), 'tubatalevski' (Event#67-M), 'anelka79' (Event#68-L), 'Fisherman FV' (Event#68-M), 'S.GabrielR' (Event#69-L), '2outerjames' (Event#69-M), 'omaha4lol's' (Event#70-L), 'Supermassa1' (Event#70-M), 'Popiedejopie' (Event#71-L), 'sousinha23' (Event#71-M), 'Mulatin181' (Event#72-L), 'Fisherman FV' (Event#72-M), 'SAFADA1' (Event#73-L), 'atredezini' (Event#73-M), 'PippoHDX' (Event#74-L), 'Scarmak3r' (Event#74-M), 'MAIRONFO' (Event#75-L), 'SmilleThHero' (Event#75-M), 'borygo' (Event#76-L), 'thomber26' (Event#76-M), 'DonDwan' (Event#77-L), 'yagrebulave' (Event#77-M), 'marcelr0x' (Event#79-L), 'DonVIPoker' (Event#79-M), 'phlowzen' (Event#82-L), 'Giant_Santos' (Event#82-M), 'JefersonBonfim' (Event#83-L) and 'boss_bobo' (Event#83-M).
High Event Results:
Event #67 (High) $1,050 NLHE 8-Max PKO
Prizepool: $874,000
Entries: 874
'elliottpet' – $64,116 (Bounties) $63,655 (Prize)
'Fukuruku' – $5,921 (Bounties) $63,654 (Prize)
'iLcAmello' – $14,375 (Bounties) $39,512 (Prize)
Event #68 (High) $530 Mixed NLHE/PLO 6-Max
Prizepool: $161,000
Entries: 322
'mrAndreeew' – $30,166
'wizowizo' – $21,963
'beastishngry' – $15,991
Event #69 (High) $530 NLHE 7-Max
Prizepool: $389,500
Entries: 779
'FutureofMe' – $68,766
'Luciano S.H' – $48,636
'SOUFODAMS' – $33,294
Event #70 (High) $530 PLO8 6-Max
Prizepool: $162,500
Entries: 325
'Arttyomka' – $30,447
'bedias' – $22,167
'Fabahaba' – $16,140
Event #71 (High) $2,100 NLHE 8-Max Super Tuesday SE
Prizepool: $738,000
Entries: 369
'gnetaren' – $134,907
'hellzito' – $101,614
'NL_Profit' – $76,537
Event #72 (High) $1,050 Stud 8-Max
Prizepool: $75,000
Entries: 71
'YordanPetrov' – $17,454
'mistere3' – $16,858
'guilherme' – $10,500
Event #73 (High) $1,050 NLHE 6-Max PKO
Prizepool: $629,000
Entries: 629
'€urop€an' – $35,164 (Bounties) $46,248
'Sajanas23' – $24,476 (Bounties) $46,247
'CrazyLissy' – $4,519 (Bounties) $27,267
Event #74 (High) $530 NL 6+ Hold'em 6-Max
Prizepool: $67,500
Entries: 135
'kurzatvvarz' – $14,168
'FONBET_RULIT' – $10,890
'RunGodlike' – $8,370
Event #75 (High) $5,200 NLHE 8-Max Midweek Freeze
Prizepool: $455,000
Entries: 91
'tonkaaaa' – $108,729
'ramastar88' – $84,027
'Camilancefieldg' – $64,937
Event #76 (High) $2,100 5-Card NL08 6-Max
Prizepool: $276,000
Entries: 138
'kubapol1990' – $52,106
'bokkie87' – $50,356
'gangstachel9' – $34,227
Event #77 (High) $1,050 NLHE 4-Max Turbo
Prizepool: $295,000
Entries: 295
'LordTBird' – $55,721
'kZhh' – $37,590
'luckyfish89' $25,358
Event #82 (High) $2,100 NLHE 6-Max
Prizepool: $422,000
Entries: 211
'Lrslzk' – $82,808
'zerodeda' – $63,576
'Zurgok' – $48,810
Event #83 (High) $1,050 7-Max Turbo PKO Freezeout
Prizepool: $343,000
Entries: 343
'Spraggy' – $37,484 (Bounties) $30,484 (Prize)
'Wildace_hun' $13,437 (Bounties) $30,484 (Prize)
'Killer_ooooo' $3,203 (Bounties) $17,793 (Prize)