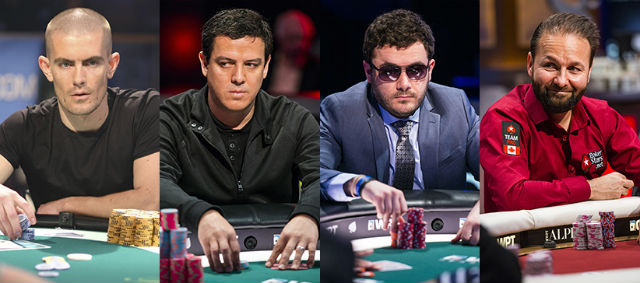 Sure, everybody at your workplace is focused on just how awesome their NCAA March Madness bracket is. Paul from accounting is convinced that the six-seed he's got going to the Elite Eight is his key to victory. You've got a bracket too – everybody does – but thanks to the World Poker Tour you're also looking at another bracket.

That's what the WPT is hoping for anyway with their launch of the WPT Champions Challenge, a bracket-style tournament pitting 64 former WPT champions against each other. The contest is interactive, with each match-up decided by a fan vote.
The 64-player field was determined using WPT titles, final table and earnings as criteria. Given that, it should be no surprise to see four players who have taken turns dominating the WPT over the years as the top seeds in each "region":
Clubs bracket:

Daniel Negreanu

Diamonds bracket:

Anthony Zinno

Heart bracket:

Carlos Mortensen

Spades bracket:

Gus Hansen
Just like the NCAA bracket, the WPT Champions Challenge goes from 64 down to 32, down to 16, down to eight, down to four and then down to two before a winner is determined. Voting opened on WPT.com on Friday and continues until a winner is announced on Monday, April 11.
The WPT Champions Challenge Schedule
Round of 64: March 11 – 16
Round of 32: March 16 -21
Sweet 16: March 21 – 25
Elite 8: March 25 – March 29
Final Four: March 29 – April 1
The Championship: April 1 – 8
The winner will be announced on April 11.
Check out the complete WPT Champions Challenge bracket.
FIRST ROUND MATCH UPS TO WATCH
Spades Region
#7 Howard Lederer vs #10 Tony Dunst
It's hard to argue that Howard Lederer wasn't one of the most successful players on the World Poker Tour in the early days. He won two events in the inaugural season and has cashed a total of seven times. Meanwhile Tony Dunst represents the online player generation that was most victimized by Lederer's mismanagement of Full Tilt Poker and could easily pull the upset here with the support of his fellow former online grinders.
Hearts Region
#8 Erik Seidel vs. #9 Shawn Buchanan
Each year one of the more intriguing first round matchups of March Madness pits the #8 seed vs. the #9 seed. That's certainly carrying over to the WPT Champions Challenge as Poker Hall of Famer Erik Seidel is up against Shawn Buchanan. Seidel has 22 WPT cashes, seven WPT final tables and won the Foxwoods Poker Classic in Season 6. Buchanan is no slouch either. The Canadian poker pro goes 16-4-1 in WPT events with his win coming at a stacked Mandalay Bay Poker Championship in Season 6.
Diamonds Region
#2 JC Tran vs. #15 Bertrand 'Elky' Grospellier
Each player in the field was chosen based on their success at World Poker Tour events. JC Tran has multiple WPT titles to his credit while Bertrand 'Elky' Grospellier has just one, but both players have also enjoyed a tremendous amount of success outside of the WPT and that may sway some voters based on their loyalties. Tran has over $12 million in lifetime earnings with just under $4 million coming at WPT stops. Grospellier has nearly $11 million in lifetime earnings with $2.2 million coming via the World Poker Tour.
Clubs Region
#5 Chino Rheem vs #12 Keven Stammen
If the Ric Flair vs. Hulk Hogan matches of the 1990s left you disappointed, maybe seeing one WPT World Champion up against another WPT World Champion can satisfy your appetite. That's what we have in the Clubs region as Season 11 champ Chino Rheem takes on Season 12 champ Keven Stammen. Rheem, who also won the Five Diamond Classic in Season 7, is the higher seed but Stammen has 15 cashes to Rheem's four, three final tables to Rheem's two.
If you're looking for a more traditional NCAA bracket to fill out, check out PocketFives' free-to-enter March Madness contest with $500 in prizes from FanDuel.