ClubWPT, the sweepstakes-based online poker membership club of the World Poker Tour, is upping its game for 2020. If a ClubWPT VIP member qualifies for a WPT Main Tour event and then goes on to win that WPT Main Tour event that they qualified, the qualifier will win an additional $1,000,000.
The ClubWPT $1,000,000 Bonus comes in addition to any money won from the event itself.
"Since 2010, hundreds of thousands of players have honed their skills on ClubWPT, and we're proud to kick off a new decade with the ClubWPT $1,000,000 Bonus," Adam Pliska, CEO of the World Poker Tour, said. "With millions of dollars at stake in every WPT event, and now a $1,000,000 bonus on the line, ClubWPT is clearly the most rewarding way for players to qualify for a seat on the World Poker Tour."
The WPT Gardens Poker Championship is the first event eligible for the ClubWPT $1,000,000 Bonus. Scheduled to start Thursday, January 9, 2020, this event takes place at the Gardens Casino in Southern California and features a $10,000 buy-in. It is the first televised WPT event of Season XVIII of the World Poker Tour, with the TV final table to play out on Tuesday, March 31, at the HyperX Esports Arena in Las Vegas.
Additional events with eligibility for the ClubWPT $1,000,000 Bonus are the WPT L.A. Poker Classic, WPT Borgata Winter Poker Open, WPT Seminole Hard Rock Poker Showdown, and WPT Choctaw. A full list of qualifying events will be available soon.
In recent seasons of the World Poker Tour, Bruce Collado is the ClubWPT VIP member to run the deepest in a WPT Main Tour event that he qualified for on ClubWPT.com. Collado won his way to the Season XVII WPT Borgata Poker Open Championship and finished in 56th place from the 1,075 entries. Running deep in a big-field event wasn't something that Collado was new to, as he beat a field of 2,400 entries to win his way to the Borgata event. Collado turned his qualifying ticket into $11,123 for his 56th-place result.
The season before, ClubWPT qualifier James McLaughlin also won his way to the WPT Borgata Poker Open. In a field of 1,132 entries, McLaughlin finished in 100th place for $6,993. During his run, McLaughlin got to play with Cliff 'JohnnyBax' Josephy, winner of the first-ever PocketFives Legacy Award.
McLaughlin's in-the-money finish broke a dry streak for ClubWPT qualifiers. Before him, Ernest Evans was the last ClubWPT qualifier to cash in a WPT Main Tour event when he took 62nd from a field 1,476 entries in the Season XIII WPT Seminole Hard Rock Poker Showdown for $12,000.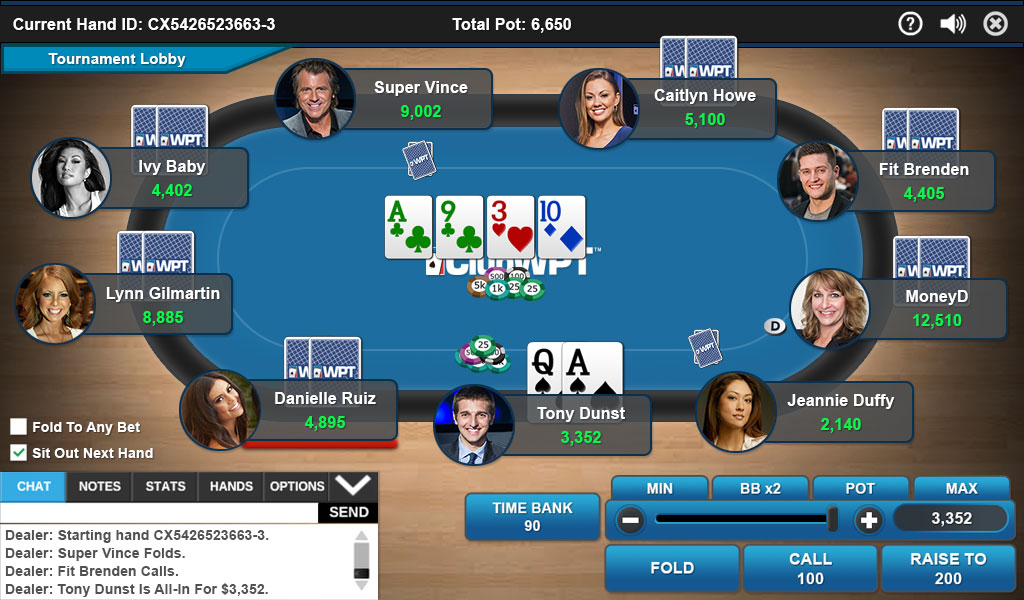 What Is ClubWPT?
ClubWPT is the official subscription online poker game of the World Poker Tour. VIP users pay a monthly subscription fee to gain access to full episodes from every past season of the WPT television show, plus magazine subscriptions, and coupons.
Plus, ClubWPT VIP members can play poker to win a share of $100,000 in cash and prizes each month, including seats to World Poker Tour events. It is the seats to those WPT events that can turn into a seven-figure bonus for ClubWPT VIP members.
ClubWPT is online poker that operates under sweepstakes rules where allowed. Included in the 36 eligible territories is Nevada, New Jersey, and Pennsylvania. The full list is available on ClubWPT.com.
According to ClubWPT.com, starting Wednesday, January 15, 2020, ClubWPT's VIP membership costs $27.95 monthly, $74.95 quarterly, and $264.95 annually.