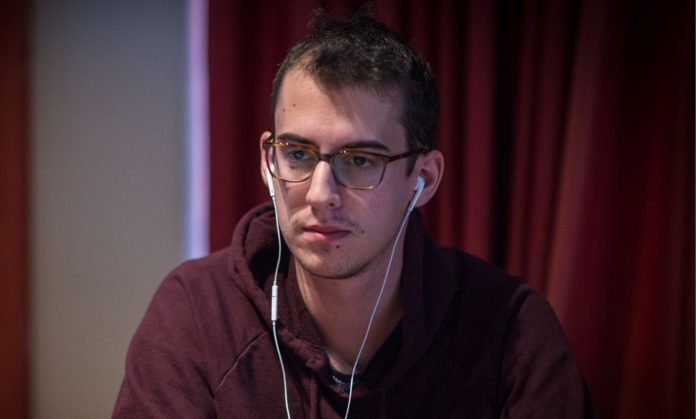 Wednesday brought more WPT Online Series action at partypoker and some big winners. Among those taking home titles was Pascal Hartmann, who won the $5,200 High Roller for $205,826.53. Anthony Zinno and Robert Heidorn were also among the day's winners.
The $5,200 High Roller that Hartmann won attracted 225 entries and generated a $1.125 million prize pool. Christoph Vogelsang, Mikita Badziakouski, Kristen Bicknell, and Farid Jattin were among those to reach the final table, and in the end it was Hartmann up against Dimitar Danchev. Hartmann won the heads-up battle and took home $205,826.53 for the win. Danchev earned $190,060.98.
Robert Heidorn won Event #8 Mini $215 6-Max Bounty Hunter for $19,709.68 plus $21,288.58 in bounties. In Event #8 $2,100 6-Max Bounty Hunter, Guillaume Nolet topped all competitors to win $47,874.85 plus $66,000.01 in bounties, which made for a $113,874.86 score.
Finishing second to Nolet was Ambrose Carr, who won $47,816.67 plus $15,046.87 in bounties for the result. Carr also took sixth in Event #12 $530 Turbo Bounty  for $3,876.90 plus $2,875 in bounties.
Event #10 $1,050 Heads Up saw Zinno take first place, chopping the prize pool with Ameer Jamil Wakil. Both players took home $29,040.
WPT Online Event #8 Mini $215 6-Max Bounty Hunter
1,708 Entries
$341,600 Prize Pool
Robert Heidorn – $19,709.68 + $21,288.58 in bounties
Davi Cola De Melo – $19,675.41 + 3,333.02 in bounties
Paul Höfer – $15,003.80 + $1,171.87 in bounties
Stefan Huber – $10,783.98 + $5,841.42 in bounties
Micky Blasi – $7,314.35 + 2,389.06 in bounties
Antonio Roberto Cao Klein Ligtenberg – $4,219.82 + $3,703.52 in bounties
WPT Online Event #8 $2,100 6-Max Bounty Hunter
290 Entries
$580,000 Prize Pool
Guillaume Nolet – $47,874.85 + $66,000.01 in bounties
Ambrose Carr – $47,816.67 + $15,046.87 in bounties
Ramon Miguel Munoz – $34,511.63 + $15,593.75
Benjamin Chalot – $25,099.36 + 3,953.12 in bounties
Hendrik Hovsepyan – $17,255.81 + $4,250 in bounties
Michael Addamo – $12,549.68 + $12,312.50 in bounties
WPT Online Event #9 $5,200 High Roller
225 Entries
$1,125,000 Prize Pool
Pascal Hartmann – $205,826.53
Dimitar Danchev – $190,060.98
Alberto Meran – $118,687.50
Christoph Vogelsang – $87,750
Mikita Badziakouski – $61,875
Kristen Bicknell – $47,250
Wiktor Malinowski – $34,875
Farid Jattin – $25,875
WPT Online Event #10 $1,050 Heads Up
121 Entries
$121,000 Prize Pool
Anthony Zinno – $29,040
Ameer Jamil Wakil – $29,040
Ivan Sakharov – $12,100
Niklas Åstedt – $12,100
WPT Online Event #12 $530 Turbo Bounty 
411 Entries
$205,500 Prize Pool
Gianluca Escobar – $15,450.44 + $22,757.85 in bounties
Robert Kacinski – $15,429.71 + $3,562.50 in bounties
Peter Turmezey – $10,593.86 + $4,468.76 in bounties
Fabrizio Dagostino – $7,438.24 + $2,421.87 in bounties
Calvin Anderson – $5,319.47 + $4,749.99 in bounties
Ambrose Carr – $3,876.90 + $2,875 in bounties
Guntis Aleskins – $2,738.62 + $2,468.74 in bounties
Rafael Camargo Freitas – $1,994.80 + $1,125 in bounties
WPT Online Event #12 Mini $55 Turbo Bounty
1,786 Entries
$89,300 Prize Pool
Alexandros Vlachakis – $5,895.62 + $5,016.63 in bounties
Adrian Strobel – $5,885.69 + $1,531.52 in bounties
Jamie O'neill – $3,829.59 + $772.30 in bounties
Flavio Nascimento – $2,549.76 + $751.30 in bounties
Anthony Clancy – $1,803.61 + $555.48 in bounties
Eric William Neves – $1,255.11 + $242.77 in bounties
Craig Martin – $864.74 + $189.84 in bounties
Jessica Teusl – $563.32 + $401.56 in bounties