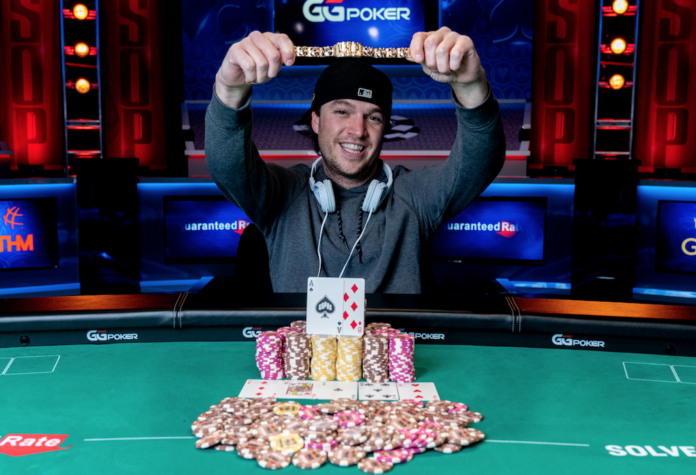 Six bracelet events took place on Day 26 of the 2021 World Series of Poker as Chad Norton won his first WSOP bracelet in the $800 Deepstack event and three final tables were reached with some superstars of the game in pole position to win gold.
Norton Scores First Bracelet
Chad Norton was dominant in his display at the $800-entry Deepstack event with the chip leader going into the final table Kevin Wang overtaken by Norton before the first-timer deservedly claimed a debut bracelet and the top prize of $214,830 to go with it.
The final table of nine players began with Wang on 22 million chips, an amount far clear of the 9 million in front of the eventual winner. It was Joshua Herman who busted first in ninth place for $19,533, as he moved all-in for around four big blinds with
and was called by Norton with
. That call was vindicated across the board of
as Norton's ace-kicker played and he vaulted to 20 million chips after a fast start to the table.
Next to go was William Blais for $24,982, as the Canadian moved all-in on a flop showing
. Blais had a monster hand with
, but it was well behind his caller Norton with
, and through the
turn and
river, Blais was on the rail and Norton became chip leader.
Jordyn Miller was eliminated in seventh place as his
call for his tournament life after Andres JeckIn's shove with
met with ill fortune. The flop of
gave JeckeIn top pair but kept Miller ahead, with the
turn maintaining that lead. The river of
changed everything, however, with Miller busted before the final six.
The chip leader heading into the final nine, Wang was gone in sixth place, as he fell to Norton too. Wang shoved from the button with
and was called by Norton with
. The board of
saw Wang flop a gutshot but miss it as Norton paired up on the turn and busted Wang for a $42,031 score.
In fifth place, it was the turn of Ivan Uzunov to depart the party, winning $55,279 as his shove with
was called by JeckeIn with
. The board of
saw Uzunov on the rail with the Argentinian staying in contention albeit at the bottom of the counts.
Narimaan Ahmadi had laddered to fourth place for $73,371 but could go no further as he shoved from the small blind with
and Norton, who called with an audible 'Sure, why not?" turned over
. The board of
saw Ahmadi leave the event, and Norton, who had four times the chips of his remaining two opponents combined, continued to obliterate all who sat between him and the gold bracelet.
Both of Norton's opponents were in ICM problems, and JeckeIn paid for it with his stack in third place for $98,269. The Argentinian shoved with
but was called by the other short stack in Steve Lemma, whose
held across a comfortable board of
which saw JeckeIn pick up a flush draw on the flop but fade both turn and river as Lemma filled up to sevens over fives on 5th street.
Heads-up was looking like it might not be a procession for Norton purely due to Lemma busting JeckeIn, but with just under a 3:1 chip lead, that proved enough for a quick kill for Norton. Lemma shoved over Norton's raise from the button and Norton made a quick call. Lemma was behind with
, Norton holding
and hitting top pair on the flop as the board played out
to give Lemma the runner-up spot for $132,802 and award Norton the bracelet and top prize of $214,830.
WSOP 2021 Event #46 $800 Deepstack Final Table Results:
Chad Norton – $214,830
Steve Lemma – $132,802
Andres Jeckeln – $98,269
Narimaan Ahmadi – $73,271
Ivan Uzunov – $55,279
Kevin Wang – $42,031
Jordyn Miller – $32,254
William Blais – $24,982
Joshua Herman – $19,533
Jeff Platt, Jonathan Dokler Head Day 4 of Double Stack
Day 3 of the $1,000-entry Double Stack event saw Michael Wang end the day with a dominant chip stack as the American piled up over 24 million chips. With Joshua Harrison his nearest challenger on 14.7 million, others in contention include South Korean player Sejin Park (13.3 million), Jonathan Dokler (12.8 million), and PokerGO presenter Jeff Platt, who led after Day 2 and still has a very playable 8 million stack heading into the penultimate day.
Of the players who busted on Day 3 as the field dropped from 149 players to just 17, former WSOP Main Event winner Martin Jacobson fell in 145th place for $3,124, Niall Farrell dropped in 88th place for $4,716 and Ralph Massey made it all the way to 23rd place for $15,856. Others to bust on a busy day for eliminations included Daniel Dayan, Andrew Moreno, Brandon Shiels and Antoine Saout.
Wang was understandably delighted with his progress.
Bagged the chip lead going into day 4 with 17 left! 24.3M at 300k bb 🔥

— Michael Wang (@miw210) October 26, 2021
WSOP 2021 Event #43 $1,000 Double Stack Top 10 Chipcounts:
Michael Wang – 24,300,000
Joshua Harrison – 14,725,000
Sejin Park – 13,325,000
Jonathan Dokler – 12,875,000
Timothy Little – 11,475,000
Alexander Farahi – 10,725,000
Alex Kulev – 9,550,000
Anthony Denove – 8,475,000
Jeff Platt – 8,075,000
Kenneth Inouye – 7,475,000
Back-To-Back Final Tables For Tommy Le
Tommy Le is the man to catch in Event #45, the $10,000-entry Pot Limit Omaha Championship. With a stack of 7.4 million, Le leads from Artem Maksimov, with both of the top two some way clear of Chris Sandrock (3.2m), Jordan Spurlin (2.8m), and Jeremy Ausmus (2.2m), who will all be hoping for an early double up to put themselves back in contention for the WSOP bracelet.
With players such as Mike Matusow, Dylan Linde, and Daniel Zack all busting on the penultimate day of play, Le will be hoping to go one better than his last final table, where he lost out for the bracelet to our own Josh Arieh.
Le got off to a blistering start on the day, with just 18 players starting out and an unlucky 13 of that number failing to make the final day. Le doubled up through Arthur Morris and never looked back, as the day's dominant player busted Mike Matusow with a rivered nut flush against 'The Mouth', who had flopped the nut straight.
Once the final table of eight was reached, Ashly Butler was the first player to depart, with eighth place worth $71,242. Morris himself was busted in seventh for $93,406, while Eli Elezra failed to make it five bracelets, falling short in sixth place for $124,508 as Le claimed the chip lead heading to the denouement of the PLO Championship.
WSOP 2021 Event #45 $10,000 Pot Limit Omaha Championship Final Table Chipcounts:
Tommy Le – 7,240,000
Artem Maksimov – 5,080,000
Chris Sandrock – 3,200,000
Jordan Spurlin – 2,885,000
Jeremy Ausmus – 2,235,000
$5K Freezeout Final Table Set
Day 2 of the $5,000 Freezeout event saw a returning field of 82 players play down to just five finalists as the penultimate day of action saw plenty of it. At the close of play, Frenchman Alexandre Reard had the biggest stack, with 8,820,000 chips, some way clear of the only remaining bracelet winner in the field, Daniel Strelitz (5,345,000).
With Qing Liu (3,375,000), Conrad Simpson (2,390,000), and Ren Lin (1,535,000) completing the final five, there are sure to be fireworks as the five men play for the top prize of $428,694.
Day 2 of this event saw plenty of big names exit the competition, with eight hours of play leading to the unofficial final table of nine. With players such as Daniel Lazrus, Scott Seiver, Daniel Negreanu, and Shaun Deeb all making the money but failing to trouble the final table, others weren't so fortunate, with stars such as Ben Heath, Andrew Kelsall – who bubbled – and Alan Sternberg all falling short of profit.
WSOP 2021 Event #47 $5,000 Freezeout Final Table Chipcounts:
Alexandre Reard – 8,820,000
Daniel Strelitz – 5,345,000
Qing Liu – 3,375,000
Conrad Simpson – 2,390,000
Ren Lin – 1,535,000
Ari Engel, Sam Grafton Survive Day 1 Shootout
Event #48 was the $1,500 Shootout, a unique event on the WSOP calendar and one of our favorites, with each 10-handed starting table producing one winner who then makes the next day of single-table shootouts ahead of a final table full of winners eventually being reached. Day 1 saw a neat total of 800 players reach just 80 as players such as Sam Grafton, Joseph Cheong, and Ari Engel all ended the day too strong for nine opponents, slaying their way to victory.
Of the 12 hours that players were at the felt, some tables ended much sooner than others. The first table to leave just one player standing was the one that ended with Victoria Livschitz sat behind all the chips. Players such as Shiraz Lall and Huy Nguyen couldn't stop her progression, with other tables just as star-studded.
Sam Grafton made his way through a table that included Michael Noori, who already has a 2021 WSOP bracelet to his name, while Joseph Cheong added to the Day 2 banter after taking care of Zach Gruneberg heads-up. Ari Engel, who already has two 2021 WSOP bracelets to his name, is 79 players from repeating that trick, with players such as Maria Ho, Ryan Depaulo, Michael Mizrachi and Jeff Gross among those to miss out.
Sam Soverel Leads $10K NL 2-7
Event #49 completed the mammoth day at the felt for WSOP fans, with Sam Soverel leading the way after Day 1 of the $10,000 No Limit 2-7 Single Draw event. Soverel's stack of 454,500 chips puts him ahead of Johannes Becker (373,500) and Julien Martini (338,500) at the top of the leaderboard, but there is quality in every seat, with Shaun Deeb (302,500), Benny Glaser (290,500), and Yuval Bronshtein (225,500) all in the top 10 chip counts.
Elsewhere, players such as the vastly experienced Dan Shak (190,500), Chris Vitch (83,000), Scott Seiver (99,500), Nick Schulman (90,000), and Ryan Leng (74,500) will all be very positive that they can claim a profit on Day 2 and push for the gold. Among those who busted on Day 1 were stars such as Phil Hellmuth, Galen Hall, and Michael Noori.
WSOP 2021 Event #49 $10,000 NL 2-7 Single Draw Top 10 Chipcounts:
Sam Soverel – 454,500
Johannes Becker – 373,500
Julien Martini – 338,500
Shaun Deeb – 302,500
Benny Glaser – 290,500
Benjamin Diebold – 277,500
David McGowan – 269,500
Yuval Bronshtein – 225,500
Farzad Bonyadi – 215,500
Matt Vengrin – 210,500
Chris Moneymaker already decided pre-festival that he wouldn't be gracing Vegas with his presence, but a recent champion has, ahem, 'encouraged' him to rethink that choice. Sounds like a sidebet to us.
Honestly if @golferjosh is winning bracelets then I obv chose the wrong year to skip. May have to jump in the MAIN just for this reason

— Chris Moneymaker ⭕ (@CMONEYMAKER) October 23, 2021
Finally, if you're worried that some of the big names you love haven't arrived I Vegas yet – such as Phil Ivey – then fear not, because the two men who battled it out for the legendary WSOP Main Event win back in 1989 were pictured together at the Rio for the first time in a long time.
With THE Johnny "F'in" Chan @ItsJohnnyChan in tonight's @WSOP 2-7 No Limit Draw. Welcome to the WSOP Johnny! #POSITIVITY pic.twitter.com/8nGbx3AZRs

— phil_hellmuth (@phil_hellmuth) October 26, 2021