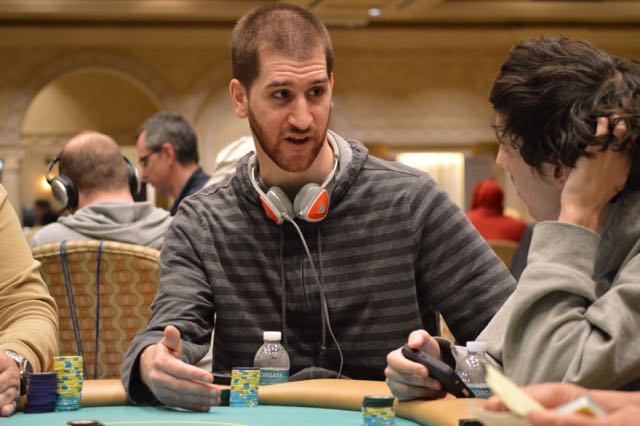 The record heat in Las Vegas this week didn't stop the masses from heading down the highway to the Las Vegas Motor Speedway for the annual Electric Daisy Carnival music festival. Mike Azzaro was among those participants who made the pilgrimage.
Azzaro's summer has lacked on the felt with only three cashes and a high point score of $1,178. That hasn't waned his enthusiasm about his prospects for the remainder of the summer and Azzaro thinks his trip to EDC is just what he needs to turn things around.
"I had an amazing time at EDC! I cleared my head and ready to finish the off the summer strong."
That finish line starts this week at the Venetian. The $1,600 buy in $2,000,000 guaranteed event has the attention of the No Limit crowd for this week and Azzaro championing the prospects for what he calls "best non-WSOP event of the summer."
Even if that event doesn't pan out for Azzaro, he has the $1,500 Shootout to look forward to. Always a well-attended event, Azzaro believes his shorthanded experience gives him an edge over what is a consistently talented field.
"The $1500 shootout on Thursday [June 22] should be a lot of fun. I like the SnG gameplay."
Overall, Azzaro is the first to admit that he hasn't played his best this summer. The multiple distractions immediately at hand have hindered Azzaro's play but he has a plan to change that.
"I haven't played as well as I can so far this summer. I need to focus more on staying off my phone and paying attention to what's going on."
Azzaro says he doesn't feel any immediate pressure to change his results and is confident the variance will balance out before all is said and done. The time away from the felt has been made the most of by Azzaro which has resulted in him not studying when he's not playing. That might be a curse or a blessing depending on the point of view, but for all the time Azzaro spends reviewing hands when he is in New Jersey, some time away might be warranted.
"I've played a decent amount of poker but I'm also out here enjoying my summer. I have no regrets about any hands this summer."
There have been countless stories of players who have struggled through the earlier to mid portions of the summer and then turned it around in one single event. That could easily be Azzaro should the right things break his way. Last year, Azzaro had only three cashes before making Day 5 of the WSOP Main Event.
A few weeks remain before Azzaro's full summer fate is realized but no matter how it turns out, he will have a smile on his face when it's all said and done.