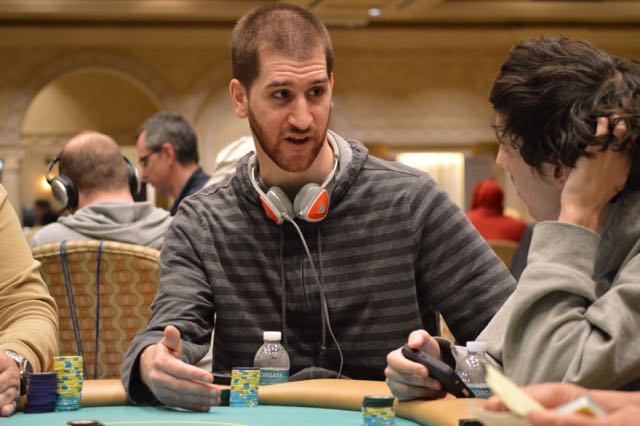 Poker tournament professionals are keenly aware of the fact that downswings are inevitable. The duration of them is a complete unknown but when they hit, there is no telling when the sun will shine once again. Mike Azzaro struggles continue this summer as he's only put together a ledger of $3,850 in tournament earnings. July is right around the corner and Azzaro is running out of chances to earn the big score he came out to Las Vegas seeking.

Azzaro's struggles haven't intensified to the point where he has had to consider lowering his volume or buy in range and that is due to healthy bankroll management practice.
"BR management is key for not going broke. I don't play tournaments where I don't feel like I have an edge. It's smart for players to sell action even if they don't need to. You can reduce variance and not be so financially invested in a specific tourney where you can play with ease."
When some players are mired in a losing spell, they turn their attention to more consistently profitable cash games, but not Azzaro. The arduous days of tournament grinding have prevented him from doing so. There's always a new tournament each day so even when Azzaro busts one, he is looking toward the next.
A major item for Azzaro in keeping a healthy perspective on his downswing is the ability to keep his tournament results separated from his personal happiness. In a previous interview, Azzaro said he was lucky to play poker for a living and he stands by that even during this rough summer.
"I don't let poker results determine my happiness. I'm so lucky to be playing this game every day and not working a shitty dead-end job."
The hands that have resulted in Azzaro ending up a spectator are not memorable to him. As he says, he hasn't played in that many meaningful pots and no specific hands stand out.
Azzaro is playing the Dog Days of Summer Poker Jam Main Event at Binion's this week and he says that if he wins the $200,000 guaranteed event, his bankroll might be back into the black for his Las Vegas stint.
The summer schedule is littered with other events for the next few weeks and Azzaro should be in the mix for most of the six-figure guaranteed events leading up to the WSOP Main Event.
Azzaro's patience in waiting for his breakthrough payout of the summer has been tested and thanks to his keen money management, should pay dividends beyond July.