Four players added their name to the list of first-time bracelet winners Wednesday at the 2017 World Series of Poker but all were squarely focused on the fourth day of play in the $50,000 Poker Players Championship where some of the biggest names in the game ended up being overshadowed by one poker's biggest stars, Daniel Negreanu.

Romania's Alexandru Papazian Wins Crazy Eights, $888,888
Alexandru Papazian and Kilian Kramer returned Wednesday to finish the $888 Crazy Eights event and it took Papazian just about one hour to turn his 3.5-1 chip lead into his first WSOP bracelet. Not only was it Papazian's first WSOP win, but also the first by any Romanian player.
"I do care about being the first one from my country to win a bracelet. I'm super happy for it," said Papazian. "I'm hoping it won't be the last one for Romanians, and that there's more to come. You're going to see us around."
The win was worth $888,888 while Kramer walked away with $463,888.
Final Table Payouts
Alexandru Papazian – $888,888
Kilian Kramer – $463,888
Harry Lodge – $344,888
Ioannis Angelou Konstas – $257,888
James Cappucci – $193,888
Vlad Darie – $146,888
Michael Tureniec – $112,888
Guillaume Diaz – $86,888
Daniel Negreanu Leading $50K Poker Players Championship Final Table
Day 4 of the $50,000 Poker Players championship started with 15 players still chasing one of the most prestigous bracelets of the summer, but by the end of the day just six players remained and the name on top was none other than Daniel Negreanu.
Negreanu finished Day 4 with 5,930,000 to put him just ahead of Isaac Haxton's 5,205,000. Elior Sion and Johannes Becker make up the middle of the field with 4,750,000 and 4,560,000 respectively. Ivo Donev sits fifth with 2,990,000.
Former #1-ranked Paul Volpe finished as the shortest stack with 1,570,000.
WSOP Player of the Year contender James Obst was the first to bust on Wednesday, finishing 15th for $77,320. Mike Matusow finished 12th ($97,328), Scott Seiver was ninth ($125,142), Matthew Ashton eighth for ($164,286) before Shaun Deeb bubbled the final table, finishing seventh for $164,286.
The final table begins at 2 pm PT.
Final Table Chip Counts
Daniel Negreanu – 5,930,000
Isaac Haxton – 5,205,000
Elior Sion – 4,750,000
Johannes Becker – 4,560,000
Ivo Donev – 2,990,000
Paul Volpe – 1,570,000
Rulah Divine Wins $1,000 No Limit Hold'em
Like a majority of modern poker players, 34-year-old Rulah Divine has been dreaming of winning a WSOP bracelet for most of his adult life. On Wednesday he turned that dream into a reality by winning the $1,000 No Limit Hold'em.
"It's surreal," Divine said. I've been dreaming of a World Series of Poker bracelet since I was a teenager. I've been an off-and-on pro. I haven't been a (full-time) pro; I've had twins, since 2014. This was only my second bracelet event, along with the online $333. And I won into this – I won my seat online for 60 bucks."
Divine beat Patrick Truong heads-up to win the bracelet and $262,501 and that highly coveted bracelet. Truong, who began the final day with the chip lead, earned $162,170 for the runner-up finish. The final table also included Michael Amato (3rd – $116,940), Ryan Hughes (5th – $62,785), John Monnette (6th – $46,758) and Eddy Sabat (8th – $26,806).
Final Table Payouts
Rulah Divine – $262,501
Patrick Truong – $162,170
Michael Amato – $116,940
Yunsheng Sun – $85,226
Ryan Hughes – $62,785
John Monnette – $46,758
Fabio Felice Cudia – $35,207
Eddy Sabat – $26,806
Jeffrey Silverstein – $20,640
Sebastian Langrock Beats Ryan Laplante for $1,500 NLHE/PLO Mix Title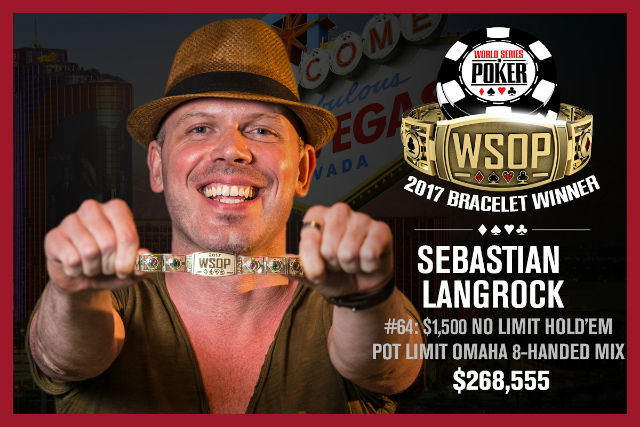 After coming to the WSOP over the last five years, Sebastian Langrock felt like he was finally playing his best. All of that paid off for the German poker pro on Wednesday when he beat Ryan Laplante heads-up to win the $1,500 No Limit Hold'em/Pot Limit Omaha event.
"I've been here five consecutive years. And the first time was pretty tough. I could not adapt at all and my game was bad. I specialized in PLO the last two years," said Langrock. "In these years, you get to know many poker players, better players and I finally got to know some very good players. They helped me a lot and I improved my game a lot. Every year I think 'How bad was I 12 months ago?' And this time it's like I feel I'm close to the peak now."
The win was worth $268,555 for the 40-year-old German, but it's not the biggest score of his career. Four years ago he won $1 million on the German version of Who Wants to Be a Millionaire?. His biggest previous score in poker was $57,545.
Laplante earned $165,983 for his finish to bring his 2017 summer earnings are now $446,939.
Victor Choupeaux finished third for $118,190, just ahead of Esther Taylor (4th – $85,225) and Shannon Shorr (5th – $62,242).
Final Table Payouts
Sebastian Langrock – $268,555
Ryan Laplante – $165,983
Victor Choupeaux – $118,190
Esther Taylor – $85,225
Shannon Shorr – $62,242
Zahir Gilani – $46,048
Jeremiah Callahan – $34,515
Fernando Brito – $26,216
Shai Zurr wins $1,000 NLHE (30-minute levels)
34 year old Shai Zurr won his first bracelet on Wednesday, topping the $1,000 No Limit Hold'em (30 minute levels) event for $223,241. He joines Ben Baruch Maya as Israeli's with 2017 WSOP wins.
Ognjen Sekularac finished second for $137,909 while Alex Foxen booked his 10th cash of the 2017 WSOP with a third place finish for $98,761.
Final Table Payouts
Shai Zurr – $223,241
Ognjen Sekularac – $137,909
Alex Foxen – $98,761
Jonathan McCann – $71,540
Erick But – $52,424
Phong Than Nguyen – $38,869
Aaron Hirst – $29,162
John Brown – $22,143
Joseph Liberta – $17,019
Tommy Tran Leads $1,500 NLHE Event After Day 1
Almost 2,000 players packed into Day 1 of the final $1,500 No Limit Hold'em event of the summer on Wednesday but only a shade more than 300 survived the day.
Tommy Tran sits the 308 remaining players heading into Day 2 with 187,100. He's got Akin Tun right behind with 182,80 and Luke Marsh is third with 178,300.
Some of the notables still in the field include Ian O'Hara, Mustapha Kanit, Christian Harder, Chris Klodnicki, Jordan Young, Ben Yu, Vojtech Ruzicka and Jonathan Little.
There will be 14 players who return on Thursday only to bust out before the bubble.
Action gets underway at Noon PT.
Top 10 Chip Counts
Tommy Tran – 187,100
Akin Tuna – 182,800
Luke Marsh – 178,300
Mikolaj Zawadzki – 171,200
Christopher – 157,000
Chad Layne – 145,500
Rafael Moraes – 143,700
Ryan Buckholtz – 140,400
Daniel Eichhorn – 138,700
Keun Kwak – 136,000
Just 103 Players Survive Day 1 of $25,000 PLO High Roller
The third biggest buy-in event of the summer, the $25,000 Pot Limit Omaha High Roller, got underway Wednesday afternoon with 187 players showing up to play the Great Game.
Just 103 players survived Day 1 with England's Iraj Parvizi building up massive stack on Day 1 to finish with an impressive chip lead. Parvizi bagged up 850,000 while Michael Kamran finished with the next biggest stack at 550,000.
Other notables still in contention include Max Silver, JC Tran, David Williams, James Obst, Chance Kornuth, Martin Kozlov, Dan Smith, Brian Rast and Ben Tollerene.
Late registration is open until the start of Day 2, Thursday at 2 pm PT.
Top 10 Chip Counts
Iraj Parvizi – 850,000
Michael Kamran – 550,000
Artem Babakhanyan – 524,500
Gjergj Sinishtaj – 508,500
Joshua Beckley – 471,000
James Calderaro – 466,500
Max Silver – 402,500
Aaron Katz – 398,000
JC Tran – 388,000
Veselin Karakitukov – 387,000