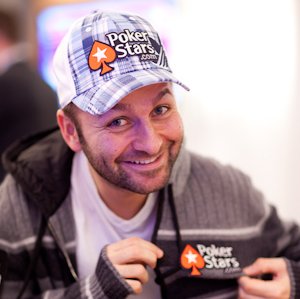 Coverage of the World Series of Poker's Big One for One Drop continued on Tuesday night on ESPN. Two one-hour episodes began with 16 players left and Tom Hall was perched atop the chip counts. The One Drop dished out a $15 million top prize.

—
PocketFives' news coverage is brought to you by Betsafe, one of the leading suppliers of online gaming products worldwide and a major sponsor of Gumball 3000. Sign up now for great bonuses, €3,000,000 guaranteed monthly, and plenty of live events!
—
Daniel Negreanu (pictured) got off to a hot start on Tuesday, doubling to 70 big blinds after his aces held against Dan Colman. This prompted ESPN poker commentator Norman Chad to joke, "Betting against Daniel Negreanu in the 2014 WSOP is like betting against Christopher Columbus in 1492." Oh Norman.
Colman did rip off a little revenge courtesy of Phil Galfond (pictured), who dropped a pot worth 8.3 million in chips to Colman after the latter hit a runner-runner flush. Upon seeing what Colman had, Galfond remarked, "I was going to feel dumb if he had queens, but I don't feel dumb about that."
The next hand, Galfond called an all-in of a player who had A-K while Galfond had A-Q on a flop of A-7-7. Galfond didn't improve and he was quickly down to nine big blinds.
The first one-hour episode ended with Phil Ivey check-raising all-in versus Cary Katz with two hearts on a flop of Q-5h-Qh. Katz had A-Q, which was unbeatable when the turn paired the board, and Ivey was eliminated in 14th. Katz delivered the beat of a lifetime last week.
Following Ivey out the door was Galfond, who started the second episode off by getting it all-in with Qc-10 on a flop of 7-2-4, all clubs. Reigning One Drop champAntonio Esfandiari curiously called with A-Q (no clubs), while Negreanu shoved all-in over-the-top with K-J of clubs for the second best flush. Esfandiari got out of the way and Galfond was drawing dead and out. The hand pushed Negreanu to 12 million in chips and he told his tablemates, "I told you what I play for: straights, flushes, all-in."
Former "Welcome Back Kotter" star and "High Stakes Poker" host Gabe Kaplan went out at the hands of former "sex tape purveyor" Rick Salomon (pictured), as Chad dubbed him. Google it. Following Kaplan's elimination, Salomon, who was wearing a white "Painman" t-shirt, stacked 16% of the chips in play with 11 people remaining.
ESPN then touched on the subject of Colman "refusing to speak to the media during the Big One." Chad perhaps sarcastically explained, "He says he's conflicted about the game and doesn't care to promote poker. So, I guess one of the best ways not to promote poker is to play in a million-dollar buy-in event on national TV?"
Tuesday's coverage ended with a blow-up from Esfandiari, who first called an all-in with A-9 of diamonds and lost and then 3bet all-in pre-flop with A-5 only to run into Tobias Reinkemeier's A-J. Esfandiari did not improve and was sent to the rail in 10th place, making no money. Esfandiari was seen on the rail saying, "It's amazing. When the cards turn against you, they just turn against you."
The conclusion of the Big One for One Drop will air nextTuesday at 8pm ET on ESPN.
Want the latest poker headlines and interviews? Follow PocketFives on Twitterand Like PocketFives on Facebook. You can also subscribe to our RSS feed.