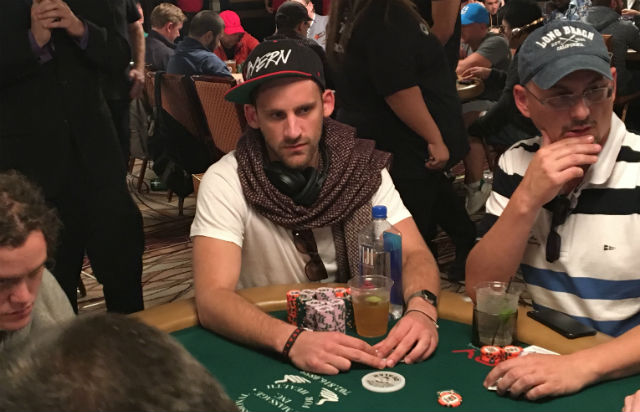 Day 5 of the 2017 World Series of Poker Main Event ended with just 95 players still in contention for the $8.15 million first place prize money and 94 of them are looking up at Robin Hegele. The German pro finished just two 5,000 chips shy of being the first player to have more than 10,000,000 in chips.
Hegele finished the day with 9,990,000 while his closest competitor was Joshua Horton with 9,360,000. The top nine stacks are all above 8,000,000, including former November Niner Antoine Saout and last year's 12th place finisher Max Silver.

"It feels very similar, but this time I have more chips," said Silver. "I've been here before and I know what to expect and I feel a lot more comfortable. Last year was a lot of more nerves and adrenaline and this year poker is just how it seems."
Silver finished Day 5 with 8,200,000 but got there without the assistance of any big pots.
"It was actually a really smooth day, start was a bit rocky – I was kind of short – but from there, there was no real pots over 2 million and just a lot of more medium pots where I just got the best of, which was really lucky and no stress," said Silver.
As for his plans for Day 6.
"Get more chips. Don't bust. Don't fuck it up," said Silver.
Another player making a second consecutive Day 6 is last year's fourth place finisher, Michael Ruane. The New Jersey native finished with 3,450,000 and finds himself re-living some of the same things he went through last year.
"I actually remember looking at the clock when there was 98 left and I remember last year looking at the clock and seeing 98. It was deja vu," said Ruane. "It's equally as fun, it's equally as intense and equally as pressure-filled."
One thing he didn't get to experience last year was the whirlwind that was Mickey Craft. In a hand just before dinner break, Ruane was all-in with pocket nines against Craft's 7-2 offsuit on a seven-high flop.
"It comes 7-6-4, and he looks over at me and goes 'How big is your overpair? I'm all in for 1.5 million'. I'm like, 'uhh, call, I guess?' I'm not going to fold and he just rolls over 7-2 offsuit," said Ruane. "He was like, 'It's all just fun and games' and I'm just like 'No, this is not happening right now'."
Ruane isn't the only member of the 2016 November Nine to move on to Day 6. Kenny Hallaert ended Day 5 with 4,370,000 – right around the average stack.
Other notables to advance to Day 6 include former #1-ranked Bryan Piccioli, Brandon Meyers, Jake Bazeley, Chris Wallace, Marcel Luske and Dario Sammartino.
There were 297 players at the start of the day, with 212 players being eliminated over the course of 5.5 levels of play. Tom Cannuli (28th), Chino Rheem (284th), Timothy Adams (267th), David Pham (231st), Davidi Kitai (223rd), Aaron Massey (209th) and another former #1-ranked player, Brian 'brianm15' England (208th) were all sent packing just outside of the top 200.
888poker ambassador Dominik Nitsche was eliminated in 195th place. Other notable players that saw their Main Event runs end include Greg Mueller (191st) Eohan O'Dea (172nd), Randy Lew (159th) Max Pescatori (148th), Charlie Carrel (88th) and Vitaly Lunkin (87th).
Action resumes Sunday at 11 AM.
Top 10 Chip Counts
Robin Hegele – 9,990,000
Joshua Horton – 9,360,000
Frank Crivello – 8,500,000
Damian Salas – 8,400,000
Daniel Ott – 8,320,000
Karen Sarkisyan – 8,270,000
Antoine Saout – 8,260,000
Max Silver – 8,200,000
Randy Pisane – 8,105,000
Joseph Dipascale – 7,450,000