Hello readers,
I'm back with another update. This one is kinda coming late, I do apologize for it, have been quite busy with everything. Hope you all had great October because for me it was pretty tough. :D
October goals
Play 550 MTTs - Played 868 MTTs. Quite a lot. Had to put in as much volume as possible to even out the negative variance that I had.
Profit $5000+ - Breakeven month this time. Haven't had these in a long time. But that is something that is bound to happen at some point, every player will have run bad at some point just gotta embrace it.
Study poker 35 hours - Studied 36 hours of poker in October which I kinda proud of. :D
Keep bb/100 EV above 10 - Not too happy with the bb/100 but something expected to be the way it was when looking how poorly I was running for the entire month and when combined with some poor plays. (7.6bb/100)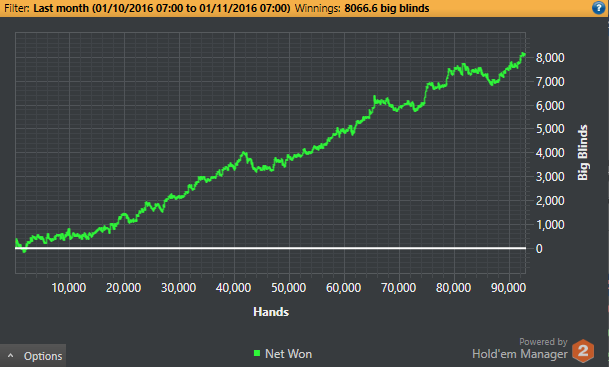 Graph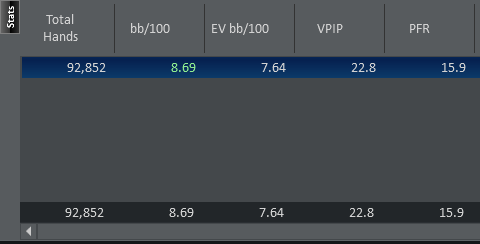 bb/100
bb/100
Not happy with the bb win rate. After hours and hours of reviewing I did see how poor I was running over really long periods however it also caused me to make some silly mistakes at certain points, but nothing major. I guess it is just one of those months. Despite of this I was happy with my BB/SB win rates. The lower I keep those numbers the better my overall MTT performance is. One thing I noticed that during October I did reduce my overall preflop and postflop aggression which I think was kind of a catalizator for the poor results.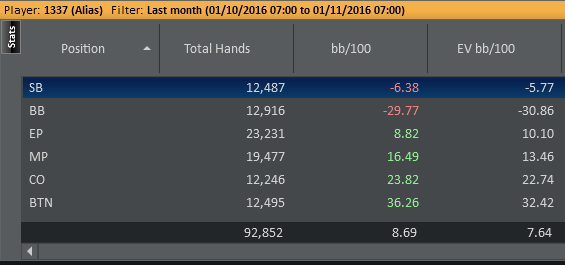 Positional stats
Live Poker 101
As I have mentioned in some of my previous updates I am part of the Live Poker 101 webinar series done by Assassinato. So far I have been really enjoying it. Really good series if someone wants to improve their live game. He goes through some really nice concepts with some cool real life examples from his recent experiences. So if you are not part of it yet you can still sign up while the series are in progress. I'm not sure how much it costs at the moment, however once the series are done the full price will be at $1k so you could save a hundred or two by joining now. :D
The Myth of Poker Talent
Great book written by Alex 'Assassinato' Fitzgerald. I got the book for a few reasons. The main one is that it is written by my coach that has taught me everything to beat the games and make a living. The book is fantastic. The best poker book I have ever read. He goes through all the basics in the beginning and then finishes the book with some advanced theory. If you are a beginner and pick up this book, by the end of it you will be able to put in some great work. The book compiles all of the great concepts that Alex has been preaching for years with some good examples with CardrunnersEV and Flopzilla in the book (yes it has screenshots and all). So the book is a good starting point and then if you need some further learning on specific topics you can move to webinars for those. Overall I rate the book 11/10. :D A must read poker book if you want to make money.
November goals
Play 600 MTTs
Profit $5000+
Study poker 35+ hours
Keep bb/100 EV above 10
Conclusion
This month not as much detail as I would want to as I got to wrap up now. But hopefully you all have great November. See ya later in the next update! The year is almost over.
Regards,
Rihard
[video=youtube;7cLXPW0iHfM]