Playing Out of the Big Blind
Recently I have been asked by a few poker friends, "how do you keep your win rate in the Big Blind so low?" Due to the frequency of this question I have decided to write this article focusing on the Big Blind play. In this text, we will discuss how someone should approach the position with the many variables that come into play.
Playing out of the Big Blind is one of the most common scenarios in poker. It's curious then that so few players pay attention to it or study the position.
I'm not going to lie: Once I was like that as well. I tried to play as little as possible out of position because it's harder to make money out of position than in position. Most other poker players I spoke to agree with this sentiment.
However, recently I've learned from my coach Alexander Fitzgerald that focusing on the Big Blind is what makes you a more consistent player.
Our goal when playing in the Big Blind is not to generate profit; it's simply impossible in today's game. No, what we're aiming to do is to save as much money (chips) as possible. Here is why:
• This is the most expensive position in No-Limit Holdem (every time you are seated in the BB you pay 1 Big Blind, a huge investment).
• If you fold every single Big Blind you will be losing -100 big blinds per hundred hands
• Your win rate in the big blind has the biggest impact on your overall win rate because of the previous points made
This applies to both tournament and cash game players. How good you play in the Big Blind will determine how much money you will make in the long-term.
Flatting Out of Big Blind
Too many players in low-stakes games never defend the big blind. Too many players in high-stakes games defend their big blind too much. So, where is the sweet spot?
There is no trick to playing well from the Big Blind. However, we all underestimate the power of exploitive play. After all, there is no way to exploit another player without being exploitable yourself.
In order to save the most money in the Big Blind, you must employ exploitative play. Too many players get obsessed with GTO play that isn't relevant to their stakes.
You need to defend your big blind constantly in order to save it. As we previously discussed, if we always fold the BB our win rate will be -100bb/100 hands. Many players do not play hands from the big blind, which means they're losing 70 or 80 big blinds per 100. That's a lot of big blinds!
However, there is a way to only lose 30 big blinds per 100 or even 20. Doesn't that sound like a nice edge to have?
In order to get these numbers you need to work on the following:
Watch their stats. What statistics are important before you defend the BB? Pay attention to the following:
• RFI (Raise First In, this shows how often the player raises preflop)
• Flop Continuation Bet (Shows how often the player bet the flop as the aggressor)
• Turn Continuation Bet(Shows how often the player bet turn after betting the flop)
• River Bet (Similar to the Flop and Turn Continuation Bet statistics, just for river decisions)
Also, eye their preflop raise. If it's larger than 2.7X it's really difficult to profitably defend. Yet, against a min-raise (which is the most popular raise size) you should be aiming to defend about 80% of the time.
Playing Out of Position
Most of the time when defending the Big Blind you will be out of position. These are strategies to consider:
• Check/raise
• Donk bet
Players that we must target from the Big Blind are the ones with Raise First In 20% or more, Flop Continuation Bet 70% or more and low double/triple barrel statistics. Those are the easiest players to exploit. They raise with many hands and continue the flop with too many hands. This makes it hard for them to defend against a check/raise. Here is why: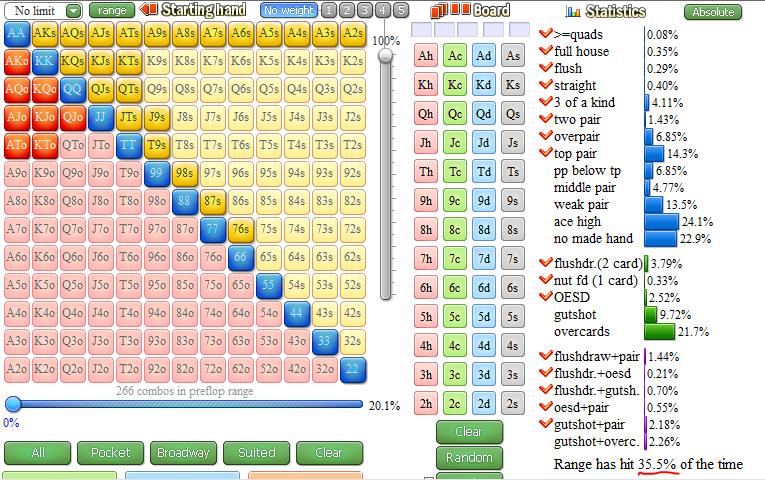 We can see that our opponent has top pair or better or a good draw only about a third of the time. If our opponent continues the flop majority of the time that means that he/she will not have a good enough hand to continue over 50% of the time.
To apply maximum pressure, we must check/raise to the size of the pot. This play needs to work only 50% of the time. If they fold bottom pairs and Ace highs, they will be folding over 50% of the time. This makes our play profitable without any cards. If you have a draw or a backdoor draw, then the play needs to work less often due to added equity to the hand.
Against players who open similar range preflop but have Flop Continuation Bet 50% or less, we must donk bet. These type of players will be checking too many flops and we will miss value. The hand combinations to consider:
• Top pair hands that are likely to remain top pair on the turn or river (for example, A-Q on A72 flop)
• Small sets/trips
• Small flush
• Two pairs (Top pair and bottom pair)
• Flush draws
• OESDs (when there is a flush draw on the flop)
• Three to a straight flush (for example, Q-Jhh on Th3c6d)
Defending When Short
Most players undervalue the power of the short-stack. Hence why people overfold in the Big Blind. Being short-stacked in the Big Blind is an advantage. It's very difficult to defend against a check/raise against a short-stack because they miss the flop 50-60% of the time.
You must constantly defend the Big Blind against 2x raises. The best hands to have are the high cards, for example, K-4 off-suit. You cannot make a mistake post flop with K-4 off-suit when you flop a King with a 14x stack.
CardRunnersEV is a great tool to find out if that is correct. Here is a calculation showing the Expected Value when defending the Big Blind with K-4 off-suit: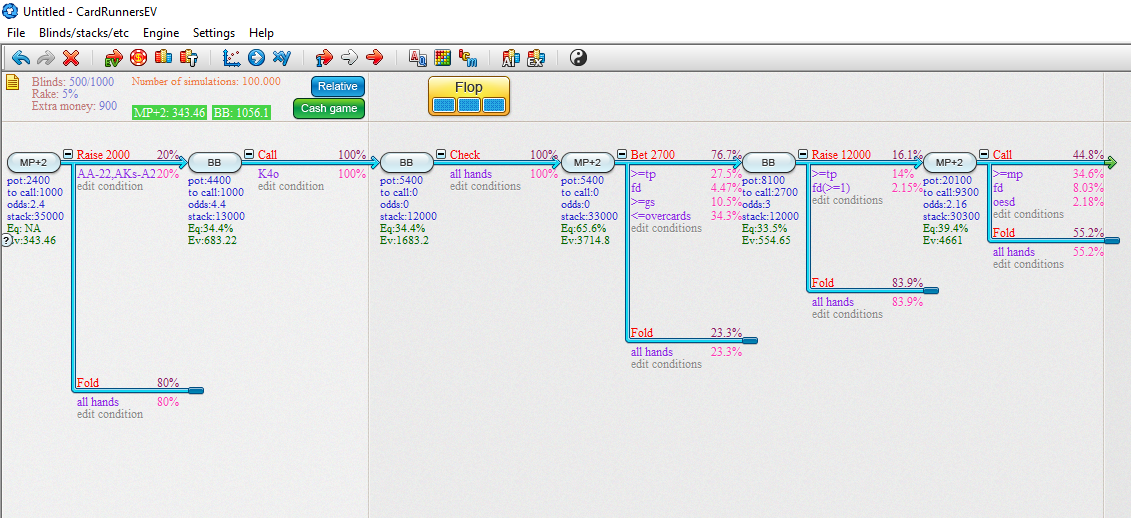 In the scenario, we have given our opponent 20% raising range. We also assume that he/she is going to Continuation Bet the Flop with a top pair or better, draws, and some pure bluffs. We also assume that our opponent checks the flop with many second pair type hands. That is what most people do. Then for simplicity sake, we decide to check/raise all-in the flop with top pair or better or with a flush draw. Our opponent calls with top pair or better and good draws. We look at the first BB node and underneath where is says EV it shows +683 chips. This means that our play is profitable for over half of big blind. Remember if you fold preflop you lose 1 big blind. By making this play, you get back your mandatory big blind investment and earn another 0.68 big blinds on top. This is a huge boost to your overall win rate.
I do recommend getting your own copy of CardrunnersEV and experiment with other calculations and see what other profitable lines you can find.
The important things to take from this writing:
• You need to defend your Big Blind constantly against small raises
• Keep an eye on the statistics all the time
• Target players with 20% or higher preflop raise frequency
• Target players with high Continuation Bet frequencies
• Defend when short-stacked (High cards are king!)
I do recommend to do your own research on these areas. I have made my calculations, therefore, you need to do them as well. This is the way to learn how to become a better player.
This post was shared on the Alec Torelli's Best of Poker Series