What the Game of Poker Taught Me About the Game of Life
"You can't teach an old dog new tricks" is a phrase I have heard a few dozen times in my life from various individuals crossing my path. Crossing the poker table though? A similar statement is usually coming from a man well into is 70's, rendering the opposite "Huh, I guess you can teach an old dog new tricks" as they slowly rake in a pot.
When playing a hand in poker, win or lose, if you're serious about the game, often times you'll look at how you could have improved. Did you make the right decision from a mathematical standpoint? Maybe there is something you could have done better to maximize your value? Naturally, in the art of progression, you learn from unlocking that knowledge, and move on in your career as a better player (even if only in that one spot).
"Clogging leaks" to poker players is the art of fixing bad decisions of the past, in preparation for future times where they will face similar choices. This is one of many takeaways from poker you can apply to your life in an effort to better your day-to-day. It seems more logical that the game of poker mirrors life in the sense that it gives constant examples of people that don't continuously make the same mistakes over and over, rather than being an exception to the rule that bad decisions are an unfortunate inevitability to anyone making a single error in judgement. It is my belief that this could easily tie back into teaching old dogs new tricks, as well as past mistake makers not being deemed for eternity to continue the same patterns.
It is said that the probability of a former prison inmate returning to prison is somewhere around 80%. Beyond a side rant about the system not working...wouldn't one assume the downswing of being behind bars (if the system worked) would be enough to sway someone to clog that leak in their game? I sometimes wonder if poker had been introduced nationwide, to learn at a high level, if these statistics would still be the same. Maybe the average individual would be more aware of the fact that they don't have to be that negative statistic?
Probability is something we face in poker with every hand. Mastering the fact that you are at the mercy of mathematics, and knowing that all you can do is put yourself in the best position to win, are both key elements in getting better at the game of poker. This too can transfer to the game of life.
Many people have the idea that whenever they finally happen to win the lottery, their life would be whole. Alas! I have seen many examples of money not buying happiness. Financial hurdles are the biggest to jump through as we speak, but any success in that field, or any other for that matter, should not be relied on for happiness. It should become a compliment to a life in which you have found a sense of peace with all potential outcomes...including the lows, not just the highs!
Learning not to over-invest emotion into the game during the highs and lows was another "breakthrough" if you will. Things are great when we are winning, and terrible when we are losing, right? Perhaps instead of lower stakes to lower emotions a bit, maybe the dynamic is what is hurting the process. It is easier in poker to tilt off more money if I am already on the downward spiral, and in turn that causes my overall value to be much lower. In life it is easy to make things worse in forgettable, regrettable, and almost petty spots that in turn causes the overall value of life to be much lower.
I recall after playing online during a Sunday grind I was a bit frustrated about another Sunday full of close calls and high emotions. Online legend and hometown hero of our shared, sometimes despised residence of Sioux City, IA, William Reynolds, told me in response "We can't discredit our effort by our results. That takes away from the mindset that we did everything we could have today to put ourselves in the best position to win". A lot of what Will has told me lifetime has stuck with me. I have tried to absorb what ever his astonishing, and at times unorthodox mind projects, but this was pretty much a mini-epiphany.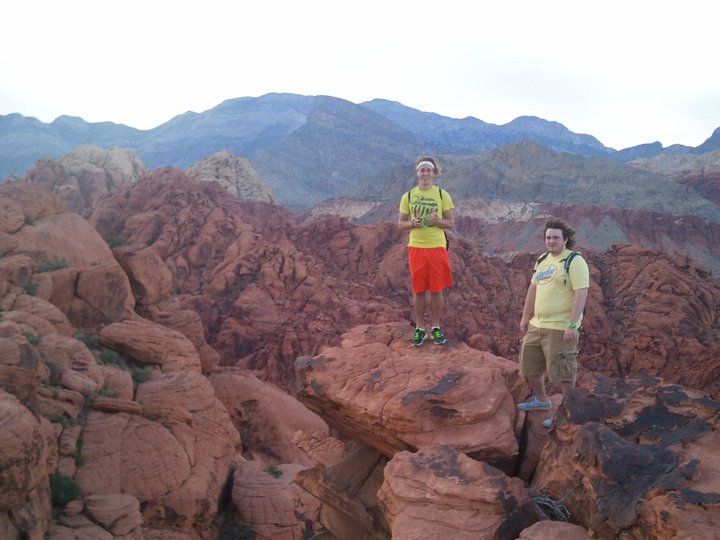 Pictured is a photo from 2011 of Will and a much heavier me at Red Rock. This day was a prime example of Mr. Reynolds' desire to reach the top no matter the mountain being climbed, and was also one of the first legitimate steps in me moving to better my mind, my body, and myself.
One thing that would surely be an infinite, renewable power source if we could figure out how to harness it would be undervalued effort. Underappreciated effort. The constant examples of work put in by everyday individuals that goes unnoticed seems to rival the number of sand grains on Earth. You have to hang your hat more on the fact that you know you are going to be better tomorrow based on the effort put forth today.
Always doing things with certainty is certainly the best path! How are you going to win if you never think you can? What was that Henry Ford quote? "Whether you think you can, or whether you think you can't, you're right" ...That's the one!
Confidence, not cockiness. Knowing you are going to make the best moves, the best play, the best effort. Leave it all on the court, floor, ice, street, or table. If you are not putting yourself in a winning mindset, you'll only be left with bad beat stories and excuses to what could have been. You will stumble and come up short with that mindset of course more times than not (math says so), but you must continue the progressing attitude that keeps you moving forward to find the times where you come out on top.
Humbling yourself must go hand in hand with confidence. Maybe you hit a big score in a Sunday Major, and get a bit too over confident on the next Sunday loading that same table. You find out quickly that last week's tournament has nothing to do with this week's. The only thing you can take from any length of time is the information that particular moment provided. You can only bring a better version of you to battle next time with newly harnessed information at your fingertips. You should be better for it as a person, and as a player of whatever game you are in.
I am not sure if any of this translates to anyone, or if it made sense to anyone else besides myself. I do know my overall poker experience lifetime has been a perfect example of a potentially harmonious life. I have learned so many things from the game and met so many faces with so many different backgrounds. For a degenerate hobby portrayed stereo-typically in back rooms and ending in gunpoint standoffs, I'd say it is a pretty beautiful game! It has taught me so much, and I have met so many amazing people just by splashing pots with them.
Thank you poker. For teaching me things I probably would have never known about the beating hearts living life, giving effort, and playing the game right along with me!