August Results- Vacation Adventures
Typically we vacation in June since it's our anniversary and birthday's but this year my grandmothers memorial service was scheduled for the beginning of the month and then my niece had her senior recital and graduation which we wanted to be a part of. So we decided we'd do July but then my wife got called for jury duty for the entire month. So by the time August rolled around I was really, really ready for vacation!
As most of you know my full-time job is being a pastor which in some ways can be a 24/7 job. However, my typical day has me doing church work from 9-5 or 6 and then I start my poker grind usually around 7 and wrap-up anywhere between 1-3 depending on how deep I get in tourneys. Basically it's like having 2 full-time jobs. So the plan for August was to take 3 weeks off from my church work and limit my poker playing to smaller MTT's like I did last month so regardless of whether running good or bad the results wouldn't impact my mood in any way while we were vacationing.
We had a great 3 weeks! Some highlights included doing a 9 mile hike which included 21 waterfalls, getting to meet and have lunch with PA grinder
Brkwng3
, doing a day-trip into New York City, touring Longwood Gardens, and spending a week in Atlantic City which included some great meals and the Air Show featuring The Thunderbirds.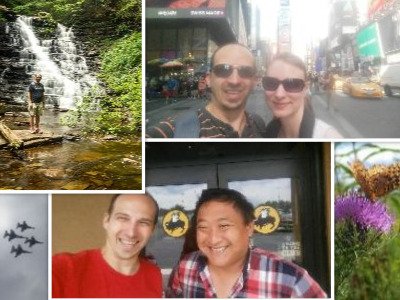 Also, while in AC, I was able to play 2 live tourneys. The first was on the day of the eclipse which was a $120 deepstack 10k GTD. 203 people entered with 27 paying…unfortunately I busted 33rd. I felt I played well the entire day with the only mistake really being a hand about 20 or so before my bust-out hand where I made Cbet that I probably shouldn't have.
The other tourney was a small daily, but deep-stacked tourney at The Golden Nugget. The level of play there was so bad it was funny. In one hand early in the tourney I flopped a set on a very wet board. After a donk bet and a caller I raised to charge draws. Only the caller guy called. The turn brought 4 to a straight on the board plus a possible flush. The tourist guy immediately and very excitedly says I'm all in. The whole table burst out laughing. The bet was for almost 5x the pot so I sigh folded. It was just that kind of day…every hand I made was just slightly beat or got outdrawn. Then towards the end in these pot where 3 to 4 limpers was quite common, I ended up not having good enough hands to shove. Needless to say I didn't cash in this one either.
Also, while in AC, I was able to play on PokerStars NJ. This was my first time on PS since Black Friday and was very exciting. I put $100 on with the intention of playing some $10 and less tourney's and either running it up and cashing out before going home or making sure to bust the entire $100 by the last day. I had been told how soft NJ sites are and oh boy the NJ grinders weren't kidding. I haven't seen that bad of play since pre-Black Friday. My biggest problem was an extreme amount of run-bad. I ran 27bb/100 below expectation for the week. Regardless though, I had a ton of fun playing the software again and the bounty builder tourney's are awesome. They essentially kept me rolled the entire week because I was making the money back in bounties but then would have bad beats just short of getting in the money. I also played the Spin and Go's to stay rolled for the week…again the level of play was terrible. At the end of the week I was slightly short of break even so I played some larger events but failed to cash. More so than usual though, I'm hoping and praying Pennsylvania gets regulated soon so we can have the superior software and bad player pool like NJ, DE and NV do.
As for the rest of my online grind, I played a lot during the beginning of the month and then a lot less as we started to actually be on the road towards the end. Thankfully it was overall another good month even with intentionally punting the PokerStars bankroll.
155…Tournaments Played
64…. Cashes (41%)
14…. Final Tables
6....…Top 3 Finishes
3……Wins
$5180.32 in total cashes (15.95% ROI)


Now onto my Merge up-date.
For those not familiar with my blog, Merge stopped allowing Pocket Fives to track scores on September 5th 2016, so what I'm doing here is tracking where I would have been had they not stopped tracking. I do play some on other networks but Merge gets out 95% of my volume so I thought it would be fun and motivating to keep things going as if though it never stopped. I use Poker Dominator to track all tourney's so these are the most accurate and up-to-date numbers as of the last day of the month.
Merge Lifetime Total:
$ 444473.21
Career Lifetime Total: $508760.65
Career number of Cashes: 4024
Follow my monthly results in real-time by following me on Twitter:
@YourPokerPastor
Thanks for reading...please post a comment with your thoughts or anything you'd like me to address in future blogs.