Feb and March Results- "House and Haiti Hiatus
Wow talk about a crazy last 2 months and it's still not quite done. In total I only played 100 tournaments the last 2 months. February saw me play the lowest number of tournaments in a month in the last 6 years. March then saw me break that "record" by 50%.
So what was the cause of all this? Well 2 major factors were my house and the country of Haiti. Let me explain. When Lisa and I moved to Harrisburg, PA in 2010 to start a new church, we originally weren't able to sell our house in our previous city so we had to settle for a smaller house than what we really need. Once that house sold 2 years later, we decided to still wait to purchase something new until we knew exactly where in Harrisburg the church would find a permanent location (we met in a movie theater for the first 5 ½ years).
Now that we're in a permanent location, we decided to start "looking" and started the process of decluttering and getting the house in show condition. This took quite a bit of our time and much to our surprise when we listed the house it only took a few days for it to be under contract. This meant then taking most of our evenings to go look at houses to potentially purchase. Once we found one and were under contract, everything looked good to go. Well that is until the buyer of our home backed out of the contract at the last minute. The good news was we got to pocket his deposit money…the bad news of course was we had to start the process all over again.
Add into all of this that I spent a week in Orlando for a convention, had my normal church responsibilities including the extra prep for Easter week and Lisa hurt her foot. Oh and we haven't even got to Haiti yet. For the second year in a row I was able to spend 8 days in Haiti serving people in the poorest country in the Western Hemisphere.
As I said, last year, "There are some things you see which simply aren't right". Let me give you one example. We took a really rough ride in an off-road vehicle to the top of a mountain to visit a remote mountain church. Once there the pastor wanted to know if we wanted to hike to their water source. We said yes and down the backside of the mountain we went. It was 100 degrees, there is no shade and very dusty and rocky. I'm expecting when we get to the bottom (about 1.5 miles) that there will be a stream. Instead what we find is a pit in the ground. Down in that pit there is a hole big enough that someone can reach down in and ladle out a bit of water.
So here is the scene. 20-25 people standing in line waiting their turn to ladle out water 1 scoop at a time into a 5 gallon bucket. Once filled, the 5 gallon bucket weighs about 40lbs. Now it's time to walk back up the mountain. Did I mention the heat? Did I mention the rocky, steep, uneven terrain? Yeah I did, what I haven't mentioned is that most of this water hauling was being done by kids! In bare feet or poorly soled shoes. Oh and once at the top, they pour it out, then head back down the mountain to stand in line and do it all over again. In total they will make 3 trips in a day to provide water. This particular source serves 5 villages from 2 mountains. In the picture below, you can see the hole they reach into just behind the blue cup.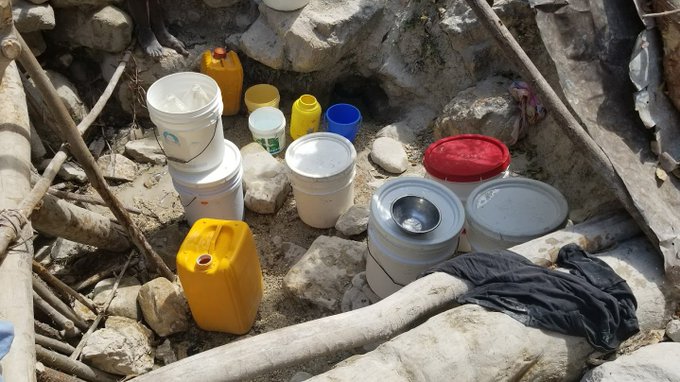 This story is just 1 afternoon amongst 8 days in the country. Each time I go, I try to do my small part to help while I'm there. The biggest thing trips like this do though is change you. It's hard to come back to the USA and complain about anything. I mean think about it…right now you can walk to your refrigerator and you have options of what to eat. If you don't like those options you can always go out to eat at the dozens of restaurants right near you. Or think about this morning as you got dressed…again you had options. Most people in Haiti have no options…and although they are the poorest country in the Western Hemisphere they are "only" the 20th poorest country in the world. So next time you take a bad beat in a hand or tournament and think "this is the worst possible thing", please realize that it's really not. In fact, stop and thank God that you have the time and money to play a game you love.
Once back from Haiti, it was time for Easter week at the church which is always busy and then thankfully a new offer came in for our house which we accepted. Also thankfully, the sellers of the house we're purchasing held it off the market while we found a new buyer. So again we're in the midst of house inspections and hopefully soon packing. All that to say, it looks like I'm still a month or so away from getting back to the grind like I've been in the past. However, this unscheduled break has been good. After 10 years of playing, 6 of them seriously grinding, an extended break has been just what I needed.
Ok let's get going with the breakdown of February and March's very limited grind…
100…Tournaments Played
40….Cashes (40.0%)
9.…. Final Tables
3.......Top 3 Finishes
1……Wins
$3605.87 in total cashes (-4.98% ROI)
Now onto my Merge up-date.
For those not familiar with my blog, Merge stopped allowing Pocket Fives to track scores on September 5th 2016, so what I'm doing here is tracking where I would have been had they not stopped tracking. I do play some on other networks but Merge gets out 95% of my volume so I thought it would be fun and motivating to keep things going as if though it never stopped. I use Poker Dominator to track all tourney's so these are the most accurate and up-to-date numbers as of the last day of the month.
Merge Lifetime Total:
$481,345.68
Career Lifetime Total: $546,505.68
Career number of Cashes: 4320
Follow my monthly results in real-time by following me on Twitter:
@YourPokerPastor
Thanks for reading...please post a comment with your thoughts or anything you'd like me to address in future blogs.