July 2018 Results- "Back to the Grind and BINKS"
So our housing situation is finally all resolved! Still unpacking some boxes and doing little projects but was able to get back to a normal poker grind this month. The truth is over the first half of the year, I was wore out…some nights I wasn't sure if I'd be able to keep my eyes open playing, so in addition to the low volume that I've already documented in previous blogs, my average buy-in was way down as well. In fact, it was all the way down to $37.33.
Going into July though I knew I'd be able to get back to normal so I started playing my normal games again. For July the ABI was $45.54. Now that may not sound like much of a difference, but that basically meant adding back in the $109's and the Big Ticket $162 on Sunday's. Sure enough on July 1st in the Big Ticket I finished 4th and the month just kept getting better from there. Included was a win in the Nightly $109,, two days after I had finished 2nd in it.
Overall the month didn't crack my all-time top 10 but it was by far my best month of this year and it will help with all the new house expenses as well as momentum for the 2nd half of 2018. On a side note, this was also the month where I cracked the half-million mark in cashes just on Merge alone!
The picture below was from one of my Sunday grinds sitting out by the pool. Our new neighborhood is super relaxing and every day we see wildlife, mainly deer, wandering through our yard. One of my next steps is putting in a poker table so I can host some home games for friends of mine.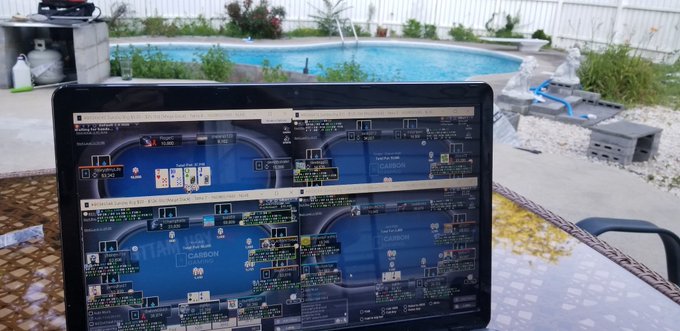 As for the online grind, here is a break-down of our July results
153..…Tournaments Played
63…..Cashes (41.2%)
19..…. Final Tables
8.......Top 3 Finishes
2……Wins
$14,829.83 in total cashes (112.82% ROI)
Now onto my Merge up-date.
For those not familiar with my blog, Merge stopped allowing Pocket Fives to track scores on September 5th 2016, so what I'm doing here is tracking where I would have been had they not stopped tracking. I do play some on other networks but Merge gets out 95% of my volume so I thought it would be fun and motivating to keep things going as if though it never stopped. I use Poker Dominator to track all tourney's so these are the most accurate and up-to-date numbers as of the last day of the month.
Merge Lifetime Total:
$505,294.67
Career Lifetime Total: $570,958.90
Career number of Cashes: 4480
Follow my monthly results in real-time by following me on Twitter:
@YourPokerPastor
Thanks for reading...please post a comment with your thoughts or anything you'd like me to address in future blogs.