June 2018 Results- "Bizarro World"
In a classic episode of Seinfeld, Jerry explains to Elaine about the time Superman discovered Bizarro World where everything is the opposite of our world. Down is up, right is wrong, you say goodbye when you come and hello when you leave. For me June felt like Bizarro World.
If you read my posts each month, you know that my wife and I have been in the process of buying a new house and that there were some speed bumps along the way. In any case, finally June was our month to close on the sale of our old home and close on the purchase of our new one. The first week of June was kind of normal and I was able to play a fairly regular schedule. However, that's when Bizarro World started…
The second week of June I had a "vacation" week to close both houses and actually make the move. However, this vacation consisted of working 12-14 hour days, packing, moving, painting, cleaning, unpacking, etc.
The third week of June I was back to work but the entire week was spent traveling to North and South Carolina. I was there first for a conference then for me to visit and encourage about ½ dozen of our denominations pastors/churches in the South. So even though I was "back to work", this particular week included a lot of sitting around, nice dinners out and chances to sleep in or catch a movie.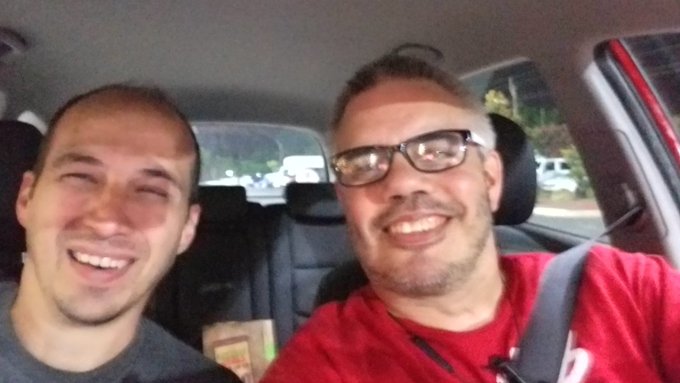 Late one night I also remembered that Mark "1DullGeek" Horn lived nearby where I was staying. I texted him and he jumped in his car to come meet up. We had previously met one year at the WSOP Circuit stop in Cherokee, but this was a nice chance to just sit and get to know each other a bit better. What I find interesting is that in many of these types of interactions I have with players, poker rarely comes up. For Mark and I in over 2 hours of conversation, poker may have been about 15 minutes of it. In any case, we had a great time. If you don't already follow him, you can do so here. Twitter:
https://twitter.com/1dullgeek
Twitch:
https://www.twitch.tv/1dullgeek

The last week of June then was "back on vacation"...yep you guessed it…more unpacking, cleaning, painting, etc. All that to say, June was not a month I had much time to play poker. In fact, about 1/3 of all my buy-ins for the month occurred on just 1 Sunday. Unfortunately, even though I ran pretty good that day, my run-bad was in really bad spots (bubbled 3 tourney's) and so that 1 losing day wiped out what would have been a winning month. Now again granted volume was super low for the month so it didn't really hurt.
So exactly what did the month look like? Here it is…
60..…Tournaments Played
29…..Cashes (48.3%)
7..…. Final Tables
2.......Top 3 Finishes
2……Wins
$2221.61 in total cashes (-8.7% ROI)
Now onto my Merge up-date.
For those not familiar with my blog, Merge stopped allowing Pocket Fives to track scores on September 5th 2016, so what I'm doing here is tracking where I would have been had they not stopped tracking. I do play some on other networks but Merge gets out 95% of my volume so I thought it would be fun and motivating to keep things going as if though it never stopped. I use Poker Dominator to track all tourney's so these are the most accurate and up-to-date numbers as of the last day of the month.
Merge Lifetime Total:
$490,517.82
Career Lifetime Total: $556,129.07
Career number of Cashes: 4417
Follow my monthly results in real-time by following me on Twitter:
@YourPokerPastor
Thanks for reading...please post a comment with your thoughts or anything you'd like me to address in future blogs.