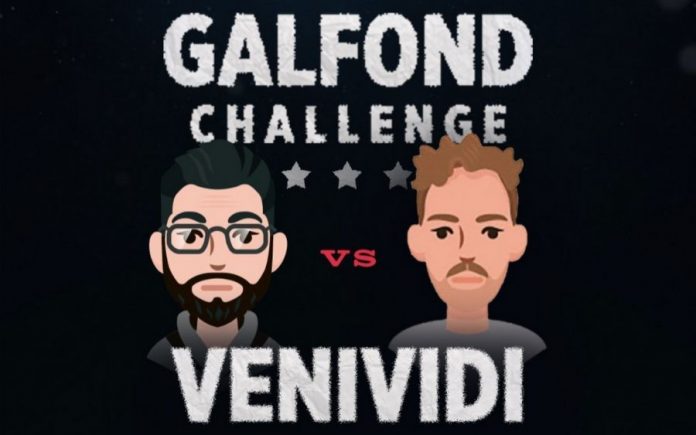 Phil Galfond and 'VeniVidi1993' played another 703 hands of their 25,000-hand 'Galfond Challenge' match on Tuesday, grinding out €100-€200 heads-up PLO on Run It Once Poker. The result was another losing day for Galfond, but it was about as small of a loss as one could have, with 'VeniVidi1993' winning just €13.31 on the session.
With nearly 4,000 hands played – 3,937 to be exact – Joe Stapleton asked Galfond after Tuesday's session was over how significant the volume is. Galfond said that it's still not that significant and wouldn't be until about 20,000-50,000 hands are played. Galfond also referred to the current losing pace as an "unlucky" and "pretty improbable" run.
"I shouldn't be losing that much per hand, even if I'm outclassed badly," Galfond said.
Adding in the the €13.31 loss from Tuesday, the current state of this Galfond Challenge match sees 'VeniVidi1993' up €327,016.64.
Start Playing Poker In North America!
Galfond said that when he's been playing against 'VeniVidi1993' that he has a "rough idea" of the current results but that's about it. Other than having an idea of where he stands, he's not tracking the progress in real time, he said. He did joke that on Monday he kept closer tabs on things because he kept running out of money in his account and would need to reload.
In addition to any money one or lost on the Run It Once Poker virtual felt, Galfond is risking €200,000 in side action against the €100,000 of 'VeniVidi1993.' While that may not be news to you, Galfond did peel back the curtain as to what would happen if one side wanted to quit.
Galfond said that either side can quit at any time. If they do, they simply forfeit the side action. Right now, if Galfond wanted to call it quits, he would lose the €200,000 side bet in addition to the €327,016.64 he's already down and be down a total of €527,016.64. If 'VeniVidi1993' wanted to quit, he would have to pay Galfond the €100,000 side bet but he'd keep the €327,016.64 he's up on the match, so he'd net out a positive return of €227,016.64.
Once again, there were some very big hands to take place, including the following pot worth more than €80,000. This one went the way of Galfond.
Galfond bet €1,349.63 on a board of
and 'VeniVidi1993' raised to €9,447.39. Galfond called and the river completed the board with the
. After Galfond checked, 'VeniVidi1993' bet €12,389.57. Galfond put in a check-raise to €30,847.46 and was all in. 'VeniVidi1993' had €16,412.13 behind and called with the
for a seven-high straight after flopping top set of jacks. Galfond had the
 for a jack-high straight, though, and he scooped the €81,896.68 pot.
For most of the match, Galfond was down in the range of €15,000-€30,000, but there were times when he was ahead and then he really started to close the gap 'VeniVidi1993' had opened back up towards the end of the session. In fact, Galfond won the very last hand these two played on Tuesday that pulled him just about even on the session. Here's how it went down.
With €10,799 and a flop of
on the table and the other table done playing, both players checked the flop to see the
land on the turn. Galfond fired a pot-sized bet of €10,799 and 'VeniVidi1993' folded to give Galfond the pot.
Challenge Results To Date
| | Hands Played | Daily Winner | Amount Won |
| --- | --- | --- | --- |
| Day 1 (Jan. 22) | 655 | VeniVidi1993 | €72,572.68 |
| Day 2 (Jan. 23) | 715 | Phil Galfond | €2,615.26 |
| Day 3 (Jan. 24) | 557 | VeniVidi1993 | €84,437.52 |
| Day 4 (Jan. 25) | 581 | VeniVidi1993 | €17,544.87 |
| Day 5 (Jan. 27) | 726 | VeniVidi1993 | €155,063.52 |
| Day 6 (Jan. 28) | 703 | VeniVidi1993 | €13.31 |
| – | – | – | – |
| Total | 3,937 | VeniVidi1993 | €327,016.64 |
If Galfond Wins, Everyone Wins
During the Galfond Challenge, Run It Once Poker players have a chance to added rewards. Through Run It Once Poker's 'Splash the Winnings' promotion, every player on Run It Once Poker has the chance to win on any day that Galfond wins in the challenge.
During the first two weeks of the Galfond Challenge, on any day when Galfond is profitable in a match, Run It Once Poker's 'Splash the Pot' promotion will be doubled. For more information, including how you can sign up for Run It Once Poker, check out PocketFives' dedicated page for the site.
What's Next for the Galfond Challenge?
With 3,937 hands played, Galfond and 'VeniVidi1993' have completed 15.7% of the challenge. They've got 21,063 hands to go and Galfond is in a bit of a hole to climb out of.
Galfond and 'VeniVidi1993' will be back on Thursday, January 30, at 11 a.m. ET for more €100-€200 PLO on Run It Once Poker.
Be sure to stay tuned to PocketFives for more on the Galfond Challenge.