In the past few years, the video streaming platform Twitchhas exploded in popularity, and while most users broadcast computer games like World of Warcraft and Counter-Strike, others have begun streaming their online poker play. But, as these first adopters have realized, playing poker live for a wide audience comes with its own challenges, one of which is the security risk of showing your computer screen to thousands of viewers.

In his very first time streaming, poker pro Charlie "Epiphany77" Carrel found out the hard way how vulnerable streamers can be after a viewer hacked into his PokerStars account and transferred $1,000 to himself while Carrel took a short break.
The incident, captured on video, took place on poker coach Evan "Gripsed" Jarvis' Twitch channelwhile Carrel 12-tabled several Sunday majors. When Carrel stepped out of the room during a scheduled pause in the tournaments, someone with the screen name Kiree11logged into the streamer's TeamViewer account, where he pondered transferring $10,000 and then changed his mind for a seemingly less noticeable amount of $1,000.
The theft was caught almost immediately by some of Gripsed's 5,100 Twitch followers and Jarvis quickly contacted PokerStars' security department. Staying calm throughout, Carrel continued playing his tournaments while he spent around 30 minutes on the phone with support. In fact, by the end of the session, the younger grinder cashed for around $7,000.
Speaking to PocketFives, Jarvis explained how the perpetrator pulled off the hack. The pair had planned to meet the night before the broadcast so that Jarvis could set up Carrel's laptop for optimal streaming, but the two never got the chance to link up. "Early in the Sunday session when he only had seven tables, I got him to open TeamViewer on the break so I could configure xsplit for him," Jarvis said. "It took us about 20 minutes and it was quite funny trying to set it up between tables popping up."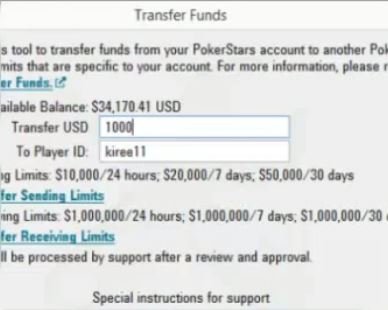 Unfortunately, in the confusion, Carrel didn't realize that he had forgotten to close TeamViewer, and since he was on his laptop, he had not partitioned the screen to separate his poker play from his personal information.
At one point during the session, Carrel's TeamViewer information popped up on the screen for a split second, which "hacker" Kiree11 promptly wrote down. With Carrel's ID and password at hand, Kiree11 was able to use the remote control feature to take control the poker pro's screen and transfer the money.
Carrel's and Kiree11's account have since been frozen by PokerStars security while the incident is being investigated. According to Jarvis, Carrel will have his account reopened on Friday and hopes to find out over the weekend if all of the cash will be returned.
Jarvis began streaming on Twitch in 2012, but was kicked off the site several times due to the fact that poker was against the company's terms at the time. When he found out that Twitch would no longer ban the game, he came back to the site last February and has since amassed over 240,000 views to his channel.
Jarvis uses the platform to promote his coaching and video training website, Gripsed.com, and has begun to allow his coaches to stream on his channel as well. Initially, the pro only streamed once a week, but added another day in the summer and now has programming scheduled for three days of the week, with guest pros streaming whenever they like.
The fact that Jarvis has gained such a large audience while only streaming a few days a week is a testament to the hunger for online poker content on the platform. In just one year, Jarvis has built up the third-largest following of all poker streamers on the site.
Check out streaming poker content from PocketFives TV!
Want the latest poker headlines and interviews? Follow PocketFives on Twitterand Like PocketFives on Facebook. You can also subscribe to our RSS feed.